Saddam Hussein's treasure turns up on eBay inside renovated Iraqi tank [Video]
A military collector was pleased to buy the Iraqi T-54 tank on eBay, but he was astounded when he found what was hidden inside.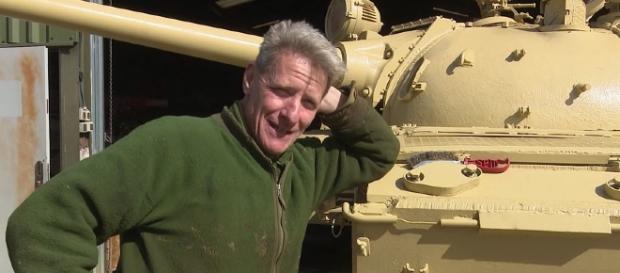 A company called Tanks a Lot in Helmdon, England, deals in and restores military tanks on a regular basis. They recently found a captured Russian-designed and Chinese-built Iraqi T-54 tank listed on eBay and immediately bought the restored military vehicle for the princely sum of £30,000 ($38,000) . Due to the nature of their work –and the fact that restored items might contain weapons – the owner of the business, Nick Mead, along with tank renovation specialist Todd Chamberlain, filmed as they explored the Iraqi tank. According to the International Business Times this is done to put the company above suspicion should weapons be found. However, it turns out there were no weapons hidden in the tank – in fact there was something far more valuable and astonishing.
A treasure trove of gold bars discovered in a fuel tank
The restored tank reportedly played a part in the invasion of Kuwait around 30 years ago. When Chamberlain cut into one of the five reserve fuel tanks on the vehicle, he was astounded to find five gold bars, each weighing 5 kilos (11 lbs) and said to be worth round £2 million (around $2.5 million) concealed inside.
Gold bars worth 2 million pounds found in Iraqi tank bought off eBay https://t.co/hGqzvn960m pic.twitter.com/G0fZp3wcE5

— NDTV (@ndtv) April 12, 2017
IB Times compares their find to the 1999 film "Three Kings" – the story of U.S. soldiers chasing after stolen Kuwaiti gold in Iraq after the Gulf War and starring Mark Wahlberg and George Clooney.
Gold bars in the safe hands of the police
Chamberlain and Mead now had a bit of a quandary on their hands.
What to do with the valuable find? Chamberlain said they couldn't exactly take five gold bars down to Cash Converters without someone asking questions, so they decided to call the Northamptonshire police, who came and took the gold away. The gold bars are now, reportedly, sitting in safe deposit in London while police continue their inquiries.
Reportedly during the 1990 invasion of Iraq, large amounts of gold ingots were looted by the Iraqi forces for Saddam Hussein and these gold bars could quite possibly have formed part of their looted treasure. This fact will apparently be taken into consideration by the police during their investigations.
Hollywood to film Tanks a Lot's story
The find hasn't been without controversy, as Chamberlain says once the story hit the media, he got a call from someone claiming to be a British Army colonel, who said the gold bars belonged to him. But even more exciting news came out of the story. According to the Banbury Guardian, a Hollywood director contacted them to say they want to film the story of Chamberlain and Mead's discovery.
Even better, George Clooney has already reportedly done a voice over in an online report about the amazing find in the Iraqi tank.
UK tank collector discovers millions worth of Kuwaiti gold in Iraqi tank he bought on eBay https://t.co/hk9MYkL7xn

— SOFREP (@SOFREP) April 12, 2017
Chamberlain said they were also meeting with the Kuwaiti Interior Minister on Tuesday last week. However, he added that it could be years before they finally find out what exactly happened to the Iraqi tank. For one thing, they would need to find the original crew of the tank, who could quite possibly have been killed by U.S. military back in the day.
Chamberlain said that after the Iraqi tank was captured by U.S. forces, the vehicle would have been inspected by MI5 for any munitions and then sold on to the highest bidder. Over the decades the gold bars remained in their hiding place, until the tank ended up with Tanks a Lot. The company reportedly owns 130 tanks and often works with the TV and film industry. However their biggest customer is reportedly the Ministry of Defense, who use the military vehicles for trials and weapons development.
It all goes to show, you just never know what you might find on eBay. Find out more about the story in the video included below.