Refugees left in the cold as camp buried in deep snow
A refugee camp on the Greek Island of Lesbos weathered deep snow overnight, Greek Government offers little support.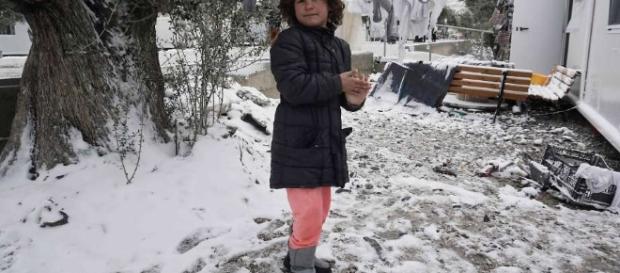 As a heavy forecast of snow hits #Europe some of the world's most vulnerable have been left in the cold. Moria refugee camp, on the Greek Island of Lesbos, is home to around 15,000 refugees, with a large number of them small children. Temperatures as low as -30 have been recorded in the Polish Mountains as Europe gears up to face heavy snow. Those living in tents within the Moria refugee camp in Lesbos have little relief from the sub-zero temperatures and continuous snowfall and little is being done to relieve the situation.
Man reported dead from freezing conditions
As these cold weather fronts grip Europe, the situation is only reported to be going from bad to worse.
Humanitarian agencies are warning that refugees could freeze to death if they are not allocated proper housing. The Greek media reported that an Afghan man died due to the severe conditions in Moria camp last week. Progress is slow in moving refugees to the Greek mainland where they could live in better conditions. A spokesperson for the United Nations Refugee Agency stated that the slow move of refugees to the mainland has caused "serious overcrowding of facilities built for far fewer people, and increased protection risks"
Government blamed for lack of preparation
In December The Guardian reported that the UN refugee agency and EU's aid department were to blame for not shelling out adequate funding to prepare refugee camps for the coming winter weather. It was reported that a multimillion pound fund was mismanaged and that the Greek Government failed to spend the €90m ($92m) that was meant to be set aside towards the issue of preparing the camps for winter.
This money was not only meant to be used on preparing the camps for winter weather, but also to ensure a continued supply of hot water in the camps; provide heating for housing areas where other refugees were living, and relocate refugees into housing or heated containers. As the snow began to fall in the beginning of December many of the camps were yet to be adequately prepared for the coming weather.
The UN refugee agency reportedly ignored the gravity of the situation as the EU promoted Greece as a safe haven for refugees in early December. Loic Jaeger, the head of Medécins Sans Frontières, commented that "our feeling is that there is a willingness now to try to present the situation as if it is OK. But it is not." (source: The Guardian). While around 21,000 refugees have been allocated housing, in December 20,000 remained in camps. There is a blatant lack of organization within this system as no one body has control of the funding or management of these camps. As snow continues to fall, along with the sub-zero temperatures, the EU and UN refugee agency must be held accountable for their negligence in organizing the necessary protection of refugees in European camps this winter. More needs to be done if refugees in European camps are to survive the freezing weather that is to come. #Refugee Crisis #Climate Change