Facebook enables ordering food deliveries from platform
New 'Order Food' option made possible by partnerships with on-demand delivery services and major restaurant chains.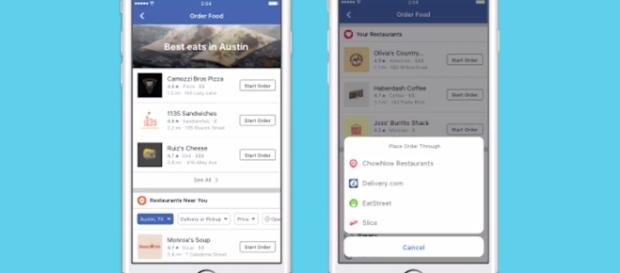 Facebook is generally held to be the premier social network in the world, and its monthly user record of 2 billion people makes that distinction hard to fault. That, however, is not stopping Mark Zuckerberg's brainchild from making sure that not only will new users keep signing up to the platform, but also keep existing members. Aside from virtual reality [VIDEO] possibilities, one method that Facebook is looking to fully implement is one that already exists in their Messenger service in some form. But having this extra option becoming part of the main Facebook experience seems to be the company's target. This is the ability to order food takeout so that hungry FB users will not even need to go away from the website or app.
Multiple partnerships
In a bid to realize Mark Zuckerberg's dream of making their social networking platform an even more integral part of the lives of many people in the well-connected world, Facebook proudly announced the introduction of a new takeout ordering tool last Friday, October 13. The "Order Food" feature has been tested by the tech company over the previous year; and they have decided that it is ready to be used for real, starting from just this previous weekend.
Global users need to hold their horses though. Facebook's "Order Food" option will not magically enable everyone to order takeout with any dining establishment stat. Zuckerberg's company had to first partner up with some of the major restaurants with their own food delivery capabilities like Papa John's, Wingstop, Panera, Jack in the Box, TGI Friday's, Denny's, El Pollo Loco, Chipotle, Five Guys and Jimmy John's.
In addition, they also entered deals with on-demand general delivery platforms such as DoorDash, Delivery.com and ChowNow, which themselves cater to a greater number of restaurants and fast-food companies. These facilities are now connected to Facebook in both its original website as well as the mobile app versions of Android and iOS.
How it works
For those who would like to try it out, the new "Order Food" option has been added to the Explore Menu on both the Facebook website and the apps (if applicable). Listed within, similar to Messenger [VIDEO] contacts, are the available restaurants and other dining options that are covered by the FB-partnered delivery platforms, or the major restaurants that have made deals with the social network. Once a favored food item has been found, the user can then choose for the order to be delivered to his home, or prepared at the venue to be picked up.
But of course, this is happening on Facebook which, as Mark Zuckerberg likes to remind, tries to encourage more online social interaction. After using "Order Food" a user can then post his impression on what he ate and the restaurant he ordered it from. His friends can then read his opinions and decide if they'll have some delivered as well.
Click to read more
and watch the video
or