Samsung Galaxy Note 8's security feature is flawed: report
Users should probably deactivate the face unlock feature on Samsung's Note 8 smartphone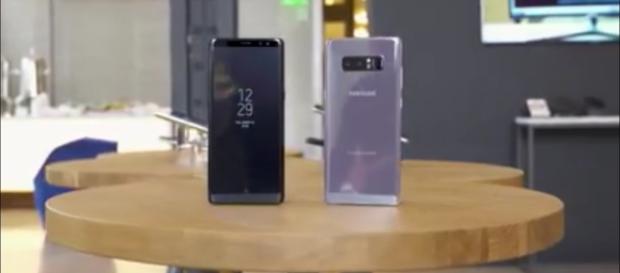 Samsung launched its Galaxy Note 8 phablet on 23 August. One of its primary selling points is its security feature. The device, according to the company, cannot be accessed by anyone other than its owners. Thanks to its facial recognition software, the privacy of the smartphone owners remain intact. According to a report by BGR, a couple of users were able to unlock the phablet using a simple trick. This also means that one the most important features of Galaxy Note 8, is seriously flawed.
Problem with facial recognition
The same problem existed with Samsung's Note 7 in 2016 as well. Users were able to fool the facial recognition software by using a picture.
Those with bad intentions can easily use one's Facebook pictures and gain access to personal information stored on the handset. As noted by Tech Radar, this is not the only security feature existing on Note 8. One can also make use of the fingerprint scanner, lock pattern, password setting and the iris scanning ability to ensure that their handsets remain secure. But, #Facial Recognition Systems are among the fastest methods to unlock a device.
The technology is modern and certainly vouched for, by many other big companies. Take, for instance, Apple. Even they are planning on integrating a 3D face-scanner. This feature will be present in iPhone 8's both, front and rear camera sensors. Users will be able to optimize the facial recognition systems to access the smartphones through this. Coming back to #Galaxy Note 8, the latest security test has resulted in discovering a major flaw.
The testers were able to pass through the smartphone's facial recognition system using nothing but a flat, 2D image of the owner.
Note 8 vs iPhone 8
Galaxy Note 8's comparison will take place with Apple iPhone 8. The firm has acquired a startup called Realface, who is apparently in charge of manufacturing the facial recognition feature for them. The firm is known to carry out all vigorous tests to ensure that their system remains unbeatable. The chances of iPhone 8 running into such troubles are, therefore, quite low. Apple is going to launch its 10th-anniversary iPhone device on 12 September at Steve Jobs Theatre, California. The starting price of the smartphone will be around $1,000. This makes it as expensive as the MacBook Pro laptop. They will be launching two other iPhone devices along with the third-generation Watch and a 4K TV. #Samsung Galaxy Note