Samsung Galaxy Note 8: An ultimate phablet
Two carriers have recently leaked the specs and features of the device.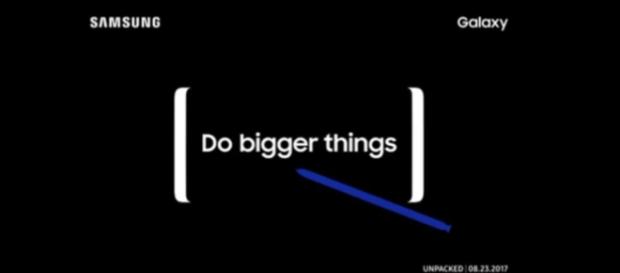 #Galaxy Note 8 is one of the most awaited smartphones of the year. The release of the Galaxy Note 8 is scheduled on August 23. According to Forbes, two carriers have recently leaked the specs and features of the device. The device is rumored to pack ultimate specs and features like curved-edge display, bezel-less design and USB-C Type. The South-Korean company has gone through the huge loss last year due to #note 7 technical problems. Samsung's phablet will compete with Apple's upcoming iPhone 8 Plus. Apple iPhone 8 might be released in September or early October.
An ultimate display with cutting-edge specs
According to Fortune, the phablet might sport a 6.3 inch Super AMOLED display.
It will have the resolution of 1440 by 2960-pixel. Notably, many few devices have the said display with such high-quality resolution. It is reported that US model will mark Snapdragon 835 chipset while in rest of the world Exynos 88-90 5 processor could be featured. In terms of connectivity, the flagship device could come up with USB-C Type for faster charging and connectivity. The Galaxy Note series of smartphones is known for its iconic stylus. This time company might make a radical change in terms of design and features.
The device might have a 6GB of RAM while internal storage is not confirmed. The phablet could sport a 12-megapixel wide- angle lens and 13-megapixel telephoto lens. The camera could offer a three-time optical zoom. While the secondary camera will be of 8-Megapixel. According to a report by Naver, there are still many technical limitations when it comes to display finger print scanners, which is why Samsung will not use one on the Note 8.
The previous model, Note 7 has the iris scanner for security purpose.
Price and design of Note 8
In terms of looks, the smartphone will be similar to the Galaxy S8. The size of the phablet will surely be bigger than the S8. However, not much can be expected to change on that front. This is considered a good thing by most users as the Galaxy S8 is a real stunner. Although the Note 8 will have a larger display than its processors. It won't really be much bigger physically based on small bezels surrounding the screen. Nevertheless, it's technically a phablet meaning it won't be easy to use with one hand. The price of the device is not confirmed but the Note 8 will be the most expensive smartphone of the company yet. It will cost around $1000. Stay tuned for more updates and news. #Samsung Galaxy Note