Samsung accidentally leaks Galaxy Note 8 before launch
Samsung mistakenly listed Galaxy Note 8 in its own website just days before its official launch.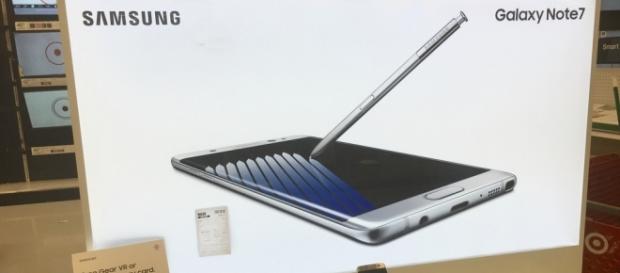 Samsung is poised to launch the Galaxy Note 8 [VIDEO] on August 23 in an event in New York. The widely-anticipated device has been in the news for months, mainly since it is the successor of the infamous Galaxy Note 7 and also because the phablet will feature some of the most top-end specs available in the smartphone market today. After months of leaks and rumors, there is hardly any aspect of the phone which is not already known to fans. On Friday, August 18 Samsung itself erroneously leaked the yet-to-be-launched Phablet on its website.
What did the leak show?
For some time, Samsung's store listed the Galaxy Note 8 device, similar to how it lists other devices that are already released.
The difference here was the listing's link did not work. The picture, however, was the first official glimpse of the phablet. It did not reveal anything surprising as leaked renders and images have already provided the same view countless times.
The listing revealed a 64 GB unlocked variant of the impending handset, hinting that the release of the carrier locked and unlocked versions may happen at the same time. This is unusual for Samsung as it generally releases the carrier locked variants much earlier than the unlocked handsets. For the Galaxy S8 the carrier unlocked version started retailing almost a month after the carrier version, while in case of the Galaxy S7 the carrier unlocked version started selling three months after the device's launch.
The leaked listing on Samsung's website, however, did not reveal the price tag that the handset may sport at launch.
This has been one of the most disputed and speculated aspects in the past few days, as more and more people feel that the Galaxy Note 8 will set customers back by $900 at least. Some feel that the price may even cross the $950 threshold.
Expected specs of the upcoming smartphone
The next-gen phablet is expected to boast a massive 6.3-inch Quad HD+ Super AMOLED Infinity display, not unlike the ones present in the Galaxy S8 handsets. It will be powered by either the Snapdragon 835 or the Exynos 8895 chipsets, depending on the region of sale. The phablet will be supported by 6 GB of RAM and will come in two variants of memory storage, 64 GB, and 128 GB. This memory can be bolstered using microSD cards.
The device will mount the fingerprint scanner on the rear facing side of the screen and it will boast a dual camera module on the back. The two sensors are expected to be 12-megapixel each and one of the modules will sport 3X optical zoom and other interesting features. As always, the Galaxy Note 8 will arrive with an S-Pen stylus.
Click to read more
and watch the video
or