Rail tunnel in Washington with nuclear waste partially collapses
Authorities evacuate Hanford Nuclear Reservation, considered the most toxic place in America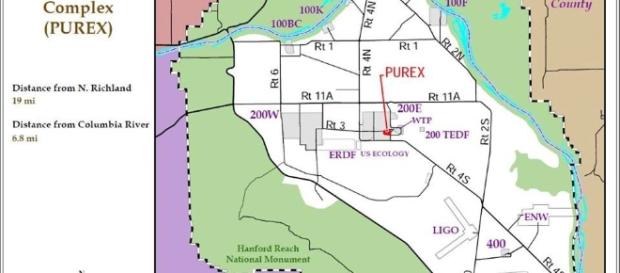 A rail tunnel full of nuclear waste partially collapsed on Tuesday morning, leading authorities to declare an emergency at a Washington plutonium plant. After the emergency had been declared, officials evacuated at around 8:30 a.m., local time, the Hanford Nuclear Reservation.
The reservation is considered the most toxic place in the U.S. Located in south-central Washington, and the entire site has been put on a "take cover" alert status following the partial collapse, New York Daily News reported.
Contaminated radioactive materials
The cave-in was at a 20-foot-long portion of a tunnel that stores contaminated radioactive materials.
The Energy Department activated the emergency operations protocol at 200 East Area in Hanford. The reservation is a complex 200 miles from Seattle. The government has been cleaning up leftover radioactive materials there from the U.S. nuclear weapons program.
Two tunnels lead to the Plutonium Uranium Extraction Facility (PUREX). The area that collapsed was the section that joined the two tunnels together. Although the facility where plutonium was extracted from spent nuclear fuel had been idle for years, the place remains highly contaminated, according to the Energy Department. There was no one in the tunnel when it collapsed.
After plutonium production for the U.S. nuclear weapons [VIDEO] program from reactors at the reservation ended in 1980, the Energy Department began the cleanup program in 1989.
When it was still operational, remote-controlled rail vehicles ferried spent fuel from a reactor to the PUREX where plutonium was extracted, according to Robert Alvarez, a former Energy Department official.
Earth above rail tunnel not contaminated
The department added that initial tests indicate the radiation did not contaminate the soil above the rail tunnel. A later statement from the agency said that all workers in the reservation are accounted for, and it seems no employee was exposed to radiation and there was no airborne radiological release.
While the immediate area was evacuated, employees who were further away were ordered to stay indoors. Workers were told to secure ventilation in their building and not to drink and eat. Robots were deployed to shoot videos and survey the damage caused by the tunnel collapse.
Inside the tunnel were a lot of contaminated pieces of equipment such as the rail cars. In the older tunnel, there are eight rail cars, while in the newer one, there are 28. Photos taken showed a gaping hole. Routine surveillance by the Department staff led to the discovery of the cave-in.
Click to read more
and watch the video
or