NY Times dares to launch new digital brand campaign
Newspaper embraces technology as it fights for survival in the new age of digital media advertising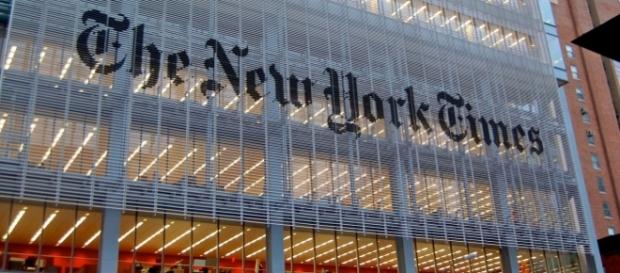 Pick up any national or local newspaper these days and you'll find plenty of news, sports, weather, puzzles, and even a recipe for vegetable pot pie. What you won't see is a lot of advertising and therein lies the biggest issue facing print media today. Those who can successfully create profitable digital platforms will survive, those who can't will die, and the New York Times offers one of the best examples of the struggle facing traditional media in a fast-moving online world.
'Truth + dare' will be focus of brand campaign
The quandary facing some of the country's most august media institutions was on full display last Monday as a host of New York Times executives and journalists paraded across the stage for nearly two hours at their company's headquarters in mid-town Manhattan.
At the opening presentation in the two-week long NewFronts event in New York City, the Times went out of their way to address issues of "fake news," Trump-fueled public anger at the media, and how they are moving at warp-speed to replace the printed word with digitally streamed content.
"Today is all about showing you work that's rooted in truth seeking," declared Meredith Kopit Levien, the paper's chief revenue officer. She described a brand campaign – "Truth + Dare" – as the Times' first in over two decades.
Central to the branding is the Times' critical move into digital journalism. To this end, their NewFronts presentation last week included a "live" onstage edition of The Daily," a 20-minute podcast started merely three months ago that has already attracted a surprising 27 million downloads.
The Times had guaranteed the show's sponsor – BMW – only 750,000 downloads to get their support.
"The Daily" is a Times journalist (Michael Barbaro) talking with other Times journalists about current news in the paper's attempt to broaden its online reach, "since I've joined the online audio team, I've learned to speak like a human being," said Barbaro, versus what he termed the more "authoritative voice" normally expected of Times reporters.
New deals announced with Spotify and Snapchat
During their NewFronts presentation in New York last year, the Times made a great deal out of their push into the virtual reality (VR) market, showcasing content produced in the 360-degree interactive medium. While the company released 20 VR projects in 2016 and appears "all in" on the technology, the emphasis this time was on other new digital initiatives. These included the use of machine learning (a photo of the people surrounding President Trump on the inaugural stand in January was labeled using computer facial recognition) and a new partnership with Spotify to bring podcasts like "The Daily" into an even larger online distribution channel.
The Times has also formed a deal with Snapchat to place their content on Discover, the social media platform's site for news organizations. The paper's daily content launched less than a month ago on the Snapchat platform and even includes a mini version of the Times' famously difficult crossword puzzle. "We are going to be making a serious news product inside of Snapchat," said Times reporter Mike Schmidt during the NewFronts presentation last Monday.
There are signs that the paper's renewed commitment to a stronger digital presence may be paying off financially. In the earnings report released last Thursday by the New York Times Company, there was significant growth reported in their digital business, with a 19% rise in advertising revenue and they added over 300,000 net digital-only subscriptions, the largest such increase in Times history.
Recent industry reports show that only two companies – Facebook and Google – control 60% of U.S. digital ad spending. The New York Times is clearly trying to break that duopoly by leveraging the strength of their 166-year-old brand. That's daring.