Facebook rolls out Town Hall to help reach out to local politicians
Zuckerberg's team is delivering on his promise to come up with a way to build a more civic community that goes 'beyond voting'.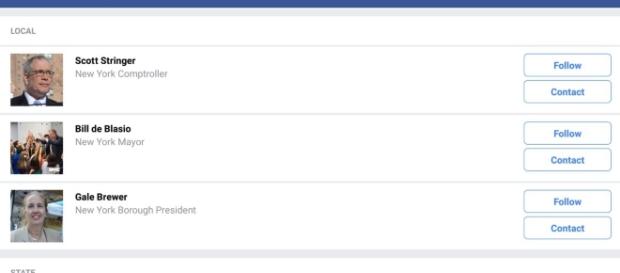 Facebook has launched "town hall", a new feature to connect with your local US government officials. This feature is part of a series of new additions to the mobile app that have been gradually introduced following Facebook CEO Mark Zuckerberg's 5,800-word humanitarian manifesto posted last month. To find the new feature, just take a look at what's inside the "More" option from your Facebook's mobile app. The tab is located under Jobs and above Instant Games and Sports.
Connecting to your local reps on Town Hall
There is a pressing need to do more on social media. To begin using "Town Hall", you will need to enter your address.
The app will then generate a screen containing a list of your local representatives, from the US Senate down to your state legislature, governors, council members, and mayors. Once you find them, Facebook provides you with two ways to connect: Follow and Contact. Users can communicate the everyday issues that are impacting them directly in a dialog with those who are in places to help them locally. Such initiatives, as detailed by Zuckerberg, are happening globally. This new feature is now rolling out in the United States and then globally.
In the manifesto, he wrote his answer to some of the major challenges facing our global communities. He identified the lack of local engagement as a major issue to be thoroughly addressed. He said, "Research suggests reading local news is directly correlated with local civic engagement.
This shows how building an informed community, supportive local communities, and a civically-engaged community are all related."
Facebook's concerns over violent expressions
Some of Facebook's most recent efforts to give people voices have recently been the center of attention, mostly for the violence that entailed. Of course, there are numerous success stories where people are sharing loudly and proudly their messages and local talents on Facebook Live, for example, but the suicides and live streaming of violence were unmissable. Facebook has vowed to take serious measures to focus on preventing suicides. Our new "Town Hall" feature does add a bit of an extra peer pressure as it will show you how many of your friends are already connecting with these government officials. If your local politicians do not maintain an active social media presence, you might not be able to follow or contact them, especially if you live in smaller suburban areas or remote towns.
Click to read more
and watch the video
or