Mattel presents Hello Barbie hologram doll
Hologram avatar Barbie with online smart speaker abilities touted as new virtual gal pal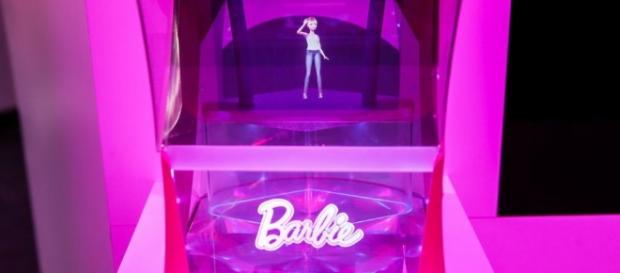 We're into the latter half of the second decade of the 21st Century, and as technology advances so do the toys. Usually, that includes any toys that have stood the test of time, gaining new features and gimmicks as they go. Take for instance Mattel's Barbie doll series, she of the impossibly big bust and thin waist that eventually got derided for misogynistic undertones and got reshaped to something more reasonable (and beyond, like Mattel's official Ashley Graham doll).
But those are merely cosmetic alterations; what I'm getting at now is how even a classic toy like Barbie can change dramatically through tech advances.
Look no further than the Hello Barbie Hologram system, which dispenses with a real doll body altogether for a more futuristic approach to dolls.
A Barbie you communicate with
Note that I said "Hologram" but no, it's not a tie-in with Hasbro's "Jem" franchise at all. Rather, Hello Barbie is an alternative play-oriented application of the technology that went into "smart speaker" devices like Amazon Echo or Google Home, which run an AI personal assistant that registers voice commands and responds accordingly with a synthesized voice of its own. These smart speakers can do an increasing range of functions from playing music, setting alarms and schedule to-do lists, and even remotely control any compatible smart devices in the house.
Mind you; Hello Barbie isn't as grand in scope as an Amazon Echo; judging from its prototype unit shown in the Mattel booth at New York's American International Toy Fair, it's a basic box-shaped device with a viewing port from where one can see a 2D image projection of a 3D-rendered Barbie.
She pops up when the device hears the activation phrase "Hello Barbie", ready to interact at a moment's notice. Like a Smart Speaker, Hello Barbie's, well, Barbie projection can respond to queries by searching the internet, make schedules, set alarms, do weather updates, tell jokes, or dance to music tracks. Other voice commands can have Barbie change her outfit, and even her appearance too.
A hologram best friend
Hello Barbie's communication system, despite not having as many capabilities as an Amazon Echo (she can't place online orders for her prospective owner for example, and a good thing too), is one of the most advanced yet, having come from smart system developer PullString.
And yes, like any cool gadget these days, there's a phone app tied to the product which parents can use to tweak settings in how much interaction their children will have with the Barbie hologram. Mattel has also addressed security concerns on such smart tech by assuring that their Hello Barbie servers never store online info (and parents can check this via the app) from their toys and will be compliant with the COPPA online protection act. Hello Barbie will be available sometime this year, price estimated at under $300.
Click to read more
and watch the video
or