Apple's billion-dollar 'spaceship' campus in Cupertino, California will open its doors to employees in April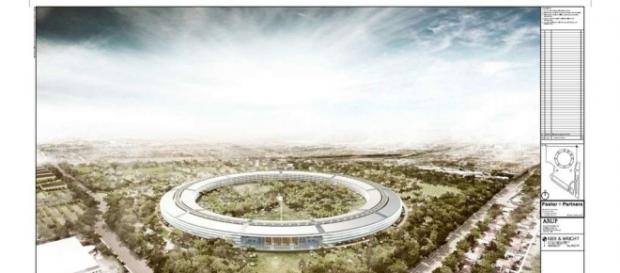 Apple's biggest new project is nearly complete. Apple's massive new 'spaceship' headquarters will be ready to open its doors to employees this April. It has been almost six years since plans were first unveiled by company founder and CEO Steve Jobs. The new 175-acre campus was originally referred to as "Apple Campus 2," but been officially redubbed "Apple Park" by company representatives. It will include a ring-shaped 2.8 million square foot curved glass main building with green spaces in the middle and more than 4,600 trees. There will be a 100,000 square-foot fitness center for employees and a 1,000-seat auditorium which will be known as the Steve Jobs Theater.
According to Apple, the new campus will be one of the most energy-efficient buildings in the world, receiving all of its power from renewable energy sources.
The Apple Spaceship will be more than a workplace
Much of the "spaceship" project is being presented as a tribute to Jobs, who passed away in October of 2011. "Steve's vision for Apple stretched far beyond his time with us. He intended Apple Park to be the home of innovation for generations to come," Apple CEO Tim Cook said in a statement on February 22nd (Apple Press Release). In 2010, Jobs told his biographer that the goal of the Apple spaceship was to leave a signature campus that expresses the values of the company for generations.
The design of the Apple spaceship is also reflective of Jobs' vision. "Steve invested so much of his energy creating and supporting vital, creative environments.
We have approached the design, engineering, and making of our new campus with the same enthusiasm and design principles that characterize our products," Jony Ive, Apple's chief design officer stated (Apple Press Release).
Keeping in line with this philosophy, Apple Park will not just be for employees. Executives have stated their high hopes regarding the new campus, which will have a visitor center with an Apple store and a public café. In the words of Luca Maestri, Apple's CFO, it's going to become a national landmark, and furthermore, that the campus has already garnered a lot of interest from tourists.
Financial investment in the Apple Spaceship project
According to reports, the cost for the new campus jumped from $3 billion to nearly $5 billion over the course of its completion. While $5 billion is a lot of money, it is still well within reach for a company that has close to $250 billion in cash assets (mostly abroad) as of the most recent quarter(As Vala Afshar of Salesforce pointed out).
Apple has $246 billion in cash. It could buy all:@NFL teams🏈@NBA teams🏀@MLB teams⚾️@NHL teams🏒

... and still have $94 billion left.

— Vala Afshar (@ValaAfshar) January 31, 2017
Every aspect of Apple Park is being invested in, from the "spaceship" main building to the underground parking garage, which will cost an estimated $26 million.
Click to read more
and watch the video
or