Microsoft will launch Lumia 950, Lumia 950 XL, Surface Pro 4 and other related Windows 10 devices on October 6, 2015 in New York City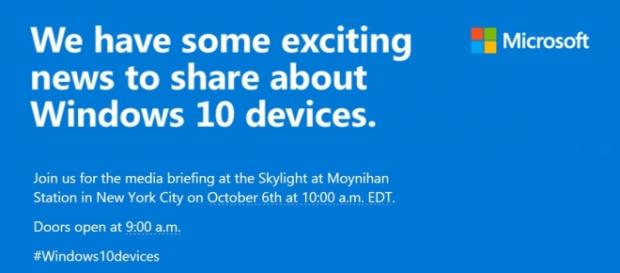 The wait is over. Microsoft is all set to launch new range of Windows 10 devices on October 6, 2015 at the Skylight at Moynihan Station in New York City. The event has been arranged in a grand scale and will be held at around 10 AM Eastern Time. 
Microsoft will never announce the details of new gadgets till they are released. The press invite just mentions - Windows 10 Devices. However, insiders and tech lovers have reported about leaks with specifications and images on the web. Microsoft is all set to release several Windows 10 powered hardware devices and accessories including new range of surprise gadgets.
It is almost confirmed that Lumia 950 and Lumia 950 XL smartphones will be released in addition to Windows 10 Mobile updates.
Microsoft will also officially release Surface Pro 4 including a new 14 inch Surface device, which will most likely be a replacement for laptops.
According to undisclosed sources, Microsoft Band 2 will also be released during tomorrow event. Moreover, new accessories such as Treasure Tag and a new Skype speaker is expected to be unveiled during the event.
A new device based on Microsoft HoloLens will be made available as a showcase item at the launch event. Tech enthusiasts will be able to experience the look and feel of the new device along with pricing information and expected date of public availability.
Ever since Windows 10 was released in July, there were talks about the expected service pack. Microsoft will most likely announce the details of the pack such as new features, changes and other updates.
If you have Xbox One, you can expect the announcement regarding the availability of Windows 10 on it. Microsoft is also planning to make a public announcement regarding new Windows Mobile apps.
According to official sources, the event is expected to last for around 90 minutes and can watched live online at microsoft.com/october2015event. It is also possible to view the launch event using Xbox Live Events interactive app named XLEi on your Xbox One.
According to tech enthusiasts, Microsoft has never done a launch event similar to that of the upcoming event. Previously, Apple used to launch series of new devices that includes new range of iPhones and Macbooks.
You can keep track of the developments during the Microsoft event tomorrow using #Windows10devices tag on Twitter.
Click to read more
and watch the video
or