Statistics vs. Accomplishments: T-Mac vs. The Claw
Do statistics outweigh team achievements? Is former Finals MVP Kawhi Leonard a more valuable player than former scoring champion Tracy McGrady?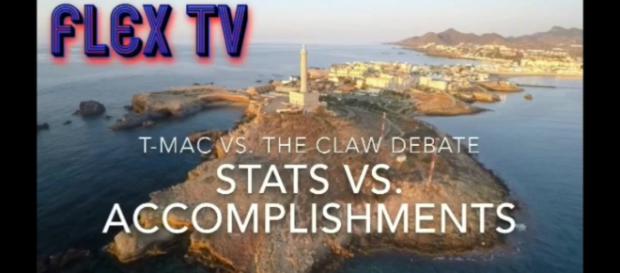 What if there were only two big-name players in the NBA free agent market, Tracy Mcgrady or Kawhi Leonard, but you could only have one star, who would you pick? This may be an easy question to answer for some, but others might consider both options before making a decision.
What about the 32 points per game T-Mac averaged dating back to the 02-03 season? Although McGrady won the scoring title for that year, the Spurs won the NBA title along with Tim Duncan winning MVP for the season. The following year, McGrady finished a game scoring 13 points in 35 seconds to beat San Antonio.
Or, would you eventually decide on two-time Defensive Player of the Year Kawhi Leonard? Traded from the Pacers for Indiana native George Hill, he led the Spurs in beating the Miami Heat in five games the year after Ray Allen made one of the greatest shots in the history of the NBA Finals.
The rise and fall of Tracy McGrady's career
Remember Toronto T-Mac with Vince Carter and Dell Curry, or Orlando T-Mac with Patrick Ewing, Grant Hill, and Horace Grant? We must consider Houston T-Mac with 7'6" Yao Ming.
How about later in his career as a member of the Hawks with Iso Joe Johnson and Al Horford? What if I were to tell you that McGrady had never made it out of the first round of the playoffs until the 2013 postseason when he signed late in-season with the Spurs? This was Leonard's second year with San Antonio when the Spurs beat the Kobe-less Lakers in the first round.
Yes, Kobe Bryant did not play in a Spurs/Lakers matchup in the playoffs, yet McGrady did. T-Mac lasted just that one series with the team in that playoff and took one shot in five minutes of the entire series.
He did not continue with the team's run to the finals. Unfortunately, injuries and constant "comebacks" ended up being the denouement of his iconic career. The seven-time all-star only played 70+ games in a lengthy NBA season seven times -- only one time after his final year as a Rocket in 2009.
The Claw ascends to the level of top-tier player
One might argue that Leonard had Coach Pop and Duncan, or the fact that Tony Parker was playing out of his mind in the 2013 Playoffs -- one of the most slept on point guards in NBA history.
Leonard also snatched 2 steals a game throughout that postseason, nearly averaging a double-double alongside Tim Duncan. He also guarded Lebron James through twelve games in back-to-back Finals. Leonard has unfortunately been injured all season and the Spurs may no longer be elite, as Leonard has other plans.
I am not saying that Kawhi Leonard is an overall more valuable player than Tracy McGrady. Yet, Leonard is only 26 years of age and has a ring, Finals MVP, and two Defensive Player of the Year awards.
If the argument is that McGrady is still the more valuable player, that is the equivalent of acknowledging that rings and accomplishments are not the end-all-be-all when regarding talent or analyzing a player's value to his team. If I have just now encouraged the viewers to believe that Kawhi Leonard is a better player than Hall of Famer Tracy McGrady, then how persuasive am I?
Click to read more
and watch the video
or