Ranking the projected starting National League second basemen
MLB: Likely National League starting second basemen ranked from best to worst.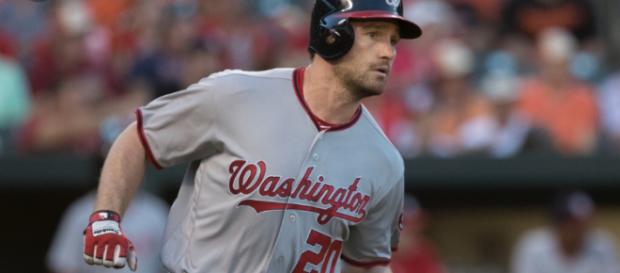 Much of the star power at first base comes from players who reside in the National League. It is the opposite for second base though, with second basemen such as Jose Altuve, Brian Dozier, Jonathan Schoop, Ian Kinsler, and Robinson Cano playing in the American League.
That doesn't mean there isn't talent (albeit at a lesser level) in the National League. Here are rankings for the projected starting National League second basemen. As a subjective list, many of the players, especially towards the middle of the list, can be considered almost interchangeable in their rankings.
To see the rankings for projected American League starting catchers, click here. For the National League, click here.
To see the rankings for projected American League starting first basemen, click here. For the National League, click here.
To see the rankings for projected American League starting second basemen, click here.
1. Daniel Murphy - Washington Nationals
2017 stats: 593 PA, .322 BA, .928 OPS, 23 HR, 43 2B, 3 3B, 93 RBI, 94 R, 2 SB
Murphy has been one of the game's best hitters since joining the Nationals in 2016.
During his time in Washington, he has led the league in doubles both years (tied with Nolan Arenado in 2017), and hit .334 with 48 home runs. He will always be known as somewhat of a defensive liability, but his offense puts him atop the list.
2. Josh Harrison - Pittsburgh Pirates
2017 stats: 542 PA, .272 BA, .771 OPS, 16 HR, 26 2B, 2 3B, 47 RBI, 66 R, 12 SB
An above-average fielder, Harrison made his second All-Star team in 2017. He hit a career-high 16 homers after just hitting four in both 2015 and 2016. He also saw a slight uptick in his walks although it's still not something he's great at (28 in 542 plate appearances).
3. Javier Baez - Chicago Cubs
2017 stats: 508 PA, .273 BA, .796 OPS, 23 HR, 24 2B, 2 3B, 75 RBI, 75 R, 10 SB
The 2016 NLCS MVP had an excellent second-half of the season last year. In 71 games, Baez batted .291 with 13 home runs, 42 RBIs, and 43 runs. An excellent fielder, he had no problem also filling it at shortstop last year when Addison Russell went down.
4. DJ LeMahieu - Colorado Rockies
2017 stats: 682 PA, .310 BA, .783 OPS, 8 HR, 28 2B, 4 3B, 64 RBI, 95 R, 6 SB
The 2016 National League batting champ hit over .300 for the third straight year in 2017 while also taking home his second Gold Glove.
Still, LeMahieu saw a decrease in nearly every major offensive category from 2016. He also has taken advantage of playing his home games at Coors Field with a career .333 batting average there compared to .270 on the road.
5. Cesar Hernandez - Philadelphia Phillies
2017 stats: 577 PA, .294 BA, .793 OPS, 9 HR, 26 2B, 6 3B, 34 RBI, 85 R, 15 SB
Hernandez hit .294 for the second straight year but became a better, more patient hitter as the season went along. After hitting .277 with a .336 on-base percentage pre-All-Star break, he owned a .308 batting average and .403 on-base percentage after the break.
6. Ozzie Albies - Atlanta Braves
2017 stats: 244 PA, .286 BA, .810 OPS, 6 HR, 9 2B, 5 3B, 28 RBI, 34 R, 8 SB
Albies, who just turned 21 on January 7, made his MLB debut on August 1 of last year. After somewhat of a slow start, he batted .323 over his last 40 games. He was ranked as the 11th-best prospect by Baseball America heading into last season.
7. Starlin Castro - Miami Marlins
2017 stats: 473 PA, .300 BA, .792 OPS, 16 HR, 18 2B, 1 3B, 63 RBI, 66 R, 2 SB
Entering his ninth season, it's hard to believe Castro is still not quite 28 years old (turns it on March 24). He made his fourth All-Star team last year and hit at least .300 for the first time since his first two seasons of 2010-11. After hitting 37 homers and 47 doubles in two years with the Yankees, he joins the Marlins for his first season with the club.
8. Scooter Gennett - Cincinnati Reds
2017 stats: 497 PA, .295 BA, .874 OPS, 27 HR, 22 2B, 3 3B, 97 RBI, 80 R, 3 SB
Gennett came out of nowhere last year when he became the 17th player in major league history to hit four homers in a game (J.D. Martinez made it 18 later in the season). From June 6 (day he had his four home run game) until the end of the year, he had a .303 batting average with 24 home runs and 77 RBIs in 95 games.
9. Joe Panik - San Francisco Giants
2017 stats: 573 PA, .288 BA, .768 OPS, 10 HR, 28 2B, 5 3B, 53 RBI, 60 R, 4 SB
After hitting over .300 in both 2014 and 2015, Panik slumped to .239 in 2016 before hitting .288 last year. While his offense reverted back to above-average for his position, his defensive numbers regressed from his Gold Glove season of 2016.
10. Kolten Wong - St. Louis Cardinals
2017 stats: 411 PA, .285 BA, .788 OPS, 4 HR, 27 2B, 3 3B, 42 RBI, 55 R, 8 SB
Wong had career-highs across the board in 2017 in batting average, on-base percentage (.376), and slugging percentage (.412). After combining for 23 home runs and 35 stolen bases in 2014-15, he has just nine and 15 respectively over 2016-17.
11. Asdrubal Cabrera - New York Mets
2017 stats: 540 PA, .280 BA, .785 OPS, 14 HR, 32 2B, 0 3B, 59 RBI, 66 R, 3 SB
Cabrera has been a steady offensive performer hitting .280 with 37 home runs and 62 doubles in two years with the Mets. He has spent much of his career at shortstop but will spend the majority of his time at second base in 2018 where he made 32 starts last year.
12. Logan Forsythe - Los Angeles Dodgers
2017 stats: 439 PA, .224 BA, .678 OPS, 6 HR, 19 2B, 0 3B, 36 RBI, 56 R, 3 SB
Forsythe's first season with the Dodgers last year was a bust. After hitting .273 with a .791 OPS and 37 homers the two previous seasons with the Rays, those numbers dwindled to .224, .678, and six with the Dodgers. He provided an excellent glove though while also making starts at third base.
13. Jonathan Villar - Milwaukee Brewers
2017 stats: 436 PA, .241 BA, .665 OPS, 11 HR, 18 2B, 1 3B, 40 RBI, 49 R, 23 SB
Villar hopes to rebound from what was a miserable 2017. It was just 2016 when he hit .285 with 19 homers, 38 doubles, and a major league-leading 63 steals. He did hit .346 over his last 81 at bats last year.
14. Ketel Marte - Arizona Diamondbacks
2017 stats: 255 PA, .260 BA, .740 OPS, 5 HR, 11 2B, 2 3B, 18 RBI, 30 R, 3 SB
With the trade of Brandon Drury, Marte should receive most of the second base reps for the Diamondbacks. It is a position he didn't play at all last year and hasn't since three starts there in 2015. He improved his approach at the plate with a solid 1.3 strikeout to walk ratio last year. With the Mariners in 2016, he had 4.7 strikeouts per walk.
15. Carlos Asuaje - San Diego Padres
2017 stats: 343 PA, .270 BA, .696 OPS, 4 HR, 14 2B, 1 3B, 21 RBI, 28 R, 0 SB
Asuaje raked at AAA in 2016 hitting .321 with 32 doubles, 11 triples, and nine homers in 134 games. He didn't experience the same success at either AAA or the big league club last year. Diminutive in stature (listed at 5-9, 158 lbs.), he doesn't project to ever produce plus power.
Click to read more
You will watch a video to read the news
or