Highest annual salary handed out by each team in free agency
NFL: Which free agent signing has earned the highest annual salary for each team?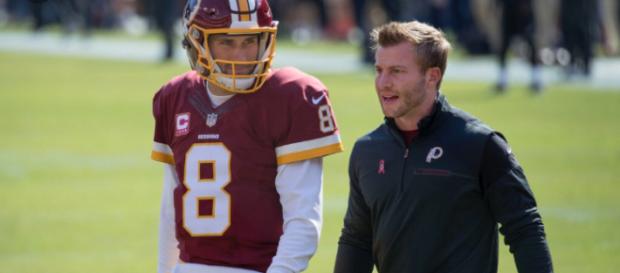 With a very busy offseason kicking off, let's take a look at each team's highest Annual Salary handed out to a Free Agent signing.
Only those whose deal details have been released are listed. An example is the Cincinnati Bengals as punter Kevin Huber is listed although, once their contracts have been announced, it is likely that Tyler Eifert and Preston Brown will be making more when their contracts are known. Players who received the franchise tag are not included. As football fans know, players are only guaranteed some of the money on the deal (other than Kirk Cousins as his new deal is fully guaranteed).
AFC
Baltimore Ravens - Michael Crabtree, WR (3/21) - $7 million/year
Buffalo Bills - Star Lotuleli, DT (5/50) - $10 million/year
Cincinnati Bengals - Kevin Huber, P (3/7.95) - $2.65 million/year
Cleveland Browns - T.J. Carrie, CB (4/31) - $7.75 million/year
Denver Broncos - Case Keenum, QB (2/36) - $18 million/year
Houston Texans - Aaron Colvin, CB (4/34) - $8.5 million/year
Indianapolis Colts - Denico Autry, DE (3/17.8) - $5.93 million/year
Jacksonville Jaguars - Andrew Norwell, OG (5/66.5) - $13.3 million/year
Kansas City Chiefs - Sammy Watkins, WR (3/48) - $16 million/year
Los Angeles Chargers - Virgil Green, TE (3/8.6) - $2.87 million/year
Miami Dolphins - Albert Wilson, WR (3/24) - $8 million/year
New England Patriots - Adrian Clayborn, DE (2/12) - $6 million/year
New York Jets - Trumaine Johnson, CB (5/72.5) - $14.5 million/year
Oakland Raiders - Jordy Nelson, WR (2/15) - $7.5 million/year
Pittsburgh Steelers - B.J. Finney, C (1/.63) - $630,000/year
Tennesee Titans - Malcolm Butler, CB (5/61.25) - $12.25 million/year
NFC
Arizona Cardinals - Sam Bradford, QB (1/20) -$20 mil/year
Atlanta Falcons - Brandon Fusco, OG (3/12.75) - $4.25 mil/year
Carolina Panthers - Dontari Poe, DT (3/27) - $9 mil/year
Chicago Bears - Allen Robinson, WR (3/42) & Kyle Fuller, CB (4/56) - $14 mil/year
Dallas Cowboys - Brian Price, DT (2/1.35) - $675,000/year
Detroit Lions - Devon Kennard, LB (3/17.25) - $5.75 mil/year
Green Bay Packers - Jimmy Graham, TE (3/30) - $10 mil/year
Los Angeles Rams - Nickell Robey-Coleman, CB (3/15.75) - $5.25 mil/year
Minnesota Vikings - Kirk Cousins, QB (3/84) - $28 mil/year
New Orleans Saints - Drew Brees, QB (2/50) - $25 mil/year
New York Giants - Nate Solder, OT (4/62) - $15.5 mil/year
Philadelphia Eagles - Nigel Bradham, LB (5/40) - $8 mil/year
San Francisco 49ers - Jimmy Garoppolo, QB (5/137.5) - $27.5 mil/year
Seattle Seahawks - Ed Dickson, TE (3/14) - $4.67 mil/year
Tampa Bay Buccaneers - Ryan Jensen, C (4/42) - $10.5 mil/year
Washington Redskins - Paul Richardson, WR (5/40) & Zach Brown, LB (3/24) - $8 mil/year
Click to read more
and watch the video
or