Roger Federer is almost back at no.1 position
Tennis fans on the edge of their seats: Roger Federer shooting for number 1 ranking.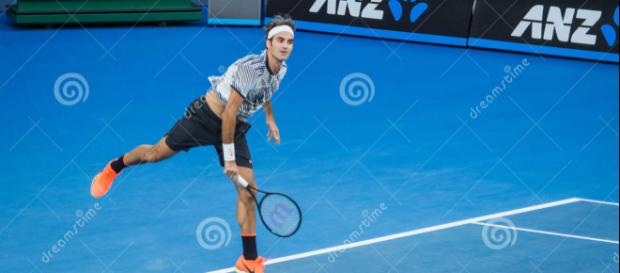 Roger Federer has accepted a wild card into this week's ABN AMRO World Tennis Tournament at Rotterdam, looking to surpass his arch-rival Rafael Nadal and become the oldest man ever to sit at the summit of the tennis world, at the age of 36. He is guaranteed to reach the No.1 position if he reaches the semi-finals this week. The prospect of his return to the mantle, fourteen years after he first sat atop the rankings, has sent the tennis world into a frenzy. All eyes will be on him this week to see if he will deliver.
What does it mean?
We all know that Roger Federer is no ordinary man and that he is a one-in-a-million wonder that we would run out of superlatives in an effort to describe. He is the legend of legends and the greatest of all time according to the majority of tennis pundits. These are all widely accepted among tennis experts and fans; however, even by Roger's lofty standards, getting back to the No.1 position in the rankings in this day and age looks like a miracle that no one even dared to imagine not long ago.
The Oldest No.1 in the history of ATP rankings is Andre Agassi who last occupied the position in 2003, at the age of 33. If Federer, 36, meets the expectations this week and regains the top spot, he will replace Agassi as the oldest man by a large margin, to seize the throne.
Until this week, Roger refused to talk about The No.1 position in the rankings as his main priority and always tried to downplay the importance of it. Even when he was so close to achieving the feat last year, he stated that he will not play for the rankings and if they come, it will be a bonus.
This week is different though. He knows that this is a golden chance for him and that it might well be the last, as well. He has a lot of points to defend in March and if he doesn't do it this week, he might not get a better chance to do it. He is playing for the ranking this week and he is focused on establishing himself as the oldest player that ever got to the top. He is not trying to hide his passion for returning to this position anymore and seems to be willing to do whatever it takes to achieve the feat.
A tough road
Roger Federer held the top spot for more than four consecutive years from 2004 to 2008. He holds the record for the longest span on top of the tennis world. However, things changed with the emergence of the likes of Novak Djokovic and Rafael Nadal. Staying on top became much harder for the great Swiss. Still, he would go deep in most of the tournaments he played and showcased great performances, but it seemed that he doesn't have the edge over his biggest rivals anymore.
He lost all his Grand Slam matches against Rafa from 2008 to 2017.
After changing his racket in 2013, he showed signs of improvement but every time he got in position to win a major tournament, there was a guy named Novak Djokovic on the other side of the net that would deny him time and time again. Most of the experts had given up on him and were talking of retirement.
As he admitted recently in an interview with ATP, in those years, he was totally OK to win just one more Grand Slam before hanging up his shoes. Things got even worse in 2016 and the fans do not forget the scene where Roger Federer was lying on the grass of Wimbledon Center Court against Milos Raonic where his knee had given up on him. His great story could have finished right there.
The comeback
Fast forward 6 months after Wimbledon, where Roger was returning to action after a long layoff due to the knee injury, which plagued his 2016 game and the dream started to happen for him. Entering Australian Open with his lowest seed ever at #17, he looked much like an outsider with little chance, compared to the dominant forces of Djokovic and Murray. But things started to shape differently.
Novak and Andy were objects of huge upsets and Roger found his form at the right time to beat three Top 10 players in reaching the finals. However, seeing Nadal, out of everyone else, on the other side of the net, was not the best case scenario for him. It was 10 years past his last victory against the Spaniard in a best of five sets match and at 1-3 in the deciding set, this match looked no different.
That was when he finally found the inner power to stand up to the task and win the match with a great performance. That was when everything turned around and 2017 felt more like 2007. He was the dominant force throughout the year and only just missed the chance to finish as World No.1 due to his limited playing activity. This year, he has picked up where he left off and by winning the first major tournament of the year, has put himself in a great position to finally reach the No.1 position, which he was deprived of in 2017.
After winning the Australian Open to start his 2018, Roger Federer moved within walking distance of Rafael Nadal, the current World No.1, with a mere 155 points separating him from the Spaniard. That was the moment the speculations began.
Rumors say that his agent, Tony Godsick, approached Richard Krajicek, The Rotterdam ATP 500 tournament, only a few hours after Federer's victory down under, to inform him about the probability of Roger seeking a wildcard into the tournament. His attendance was confirmed earlier this week and the fans have been on the edge of their seats since, counting hours to witness one of the greatest achievements in modern sports.
The road ahead
Federer needs to win three matches to be No.1 again, the New York Times reports. He won his first match against the qualifier, Ruben Bemelmans and will face the hometown hero, Robin Haase, next. It looked like Wawrinka was the only player that could stay in his path to the top, but his countryman was knocked out in the first round earlier today. The draw looks wide open for Federer to go out and get what he wants; however, no matter who he plays, there will be a lot of stress involved if he is going to serve out a match for getting back to No.1 after 5 years and there could be lots of tears coming from his eyes as well. We will all be watching.
Click to read more
You will watch a video to read the news
or