Twitter explodes as XFL is being ressurected
WWE chairman Vince McMahon is planning to bring the XFL back to life in 2020.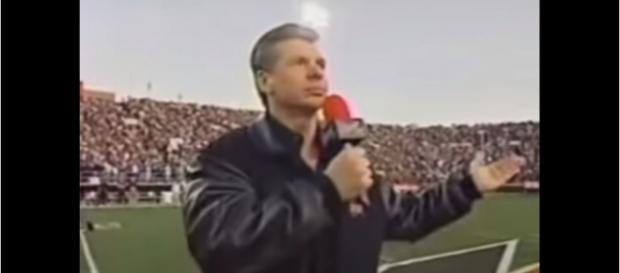 It was 1999 when Vince McMahon announced the birth of the original Extreme Football League (Xfl). The league was a "colossal failure" and folded after the 2001 inaugural season. The controversial league had eight teams which failed in many aspects. The league had a joint venture with WWE and NBC, who would eventually pull out of its involvement. Though it was a disaster and only lasted one season, many people still remember the old XFL. For better or for worse.
Now it is 2018, and McMahon is bringing the XFL back.
The plan is to have it back in operation in 2020 and fix some of the old mistakes the original league had. There had been talks about bringing the XFL back for some time, but now it is official as announced by CBS. There are a lot of questions about how it will be able to function after the failure of the first league and the increasing safety concerns of the game of football itself. Either way, the news is all over social media.
Reaction
Both the XFL and Vince McMahon started trending on Twitter as soon as the news broke.
There was a wide range of reactions. Some were excited about seeing the return of one the XFL, some were confused as to why it was happening and some simply questioned the logistics of the league being able to return. The last league was under a lot of controversy for the hard-core style of play and the way they had cheerleaders perform at games. There are also questions being asked as to the political stances of the league regarding topics such as the National Anthem and how they will handle it.
Nonetheless, it is intriguing to many as to what will be done differently this time around. Old XFL GIFs and pictures of Homer Simpson in his XFL gear have resurfaced on Twitter. It is a reminder that thought the XFL failed so badly, there are still plenty of people who remember it and are curious about its return. Even Pat McAfee expressed his interest in the new XFL.
Who's excited for Vince McMahon to bring back The XFL? pic.twitter.com/fXvPyOdnl7

— SI Vault (@si_vault) January 25, 2018
The XFL was even dumber than you remember https://t.co/XTa2M0rPEQ pic.twitter.com/sBOa5S2HP7

— Jason (@JasonKirkSBN) January 25, 2018
A trip down memory lane with the XFL's most iconic player, He Hate Me. https://t.co/BmAszfSV9X pic.twitter.com/BlPqsBGVCP

— ESPN (@espn) January 25, 2018
Hey @VinceMcMahon, I'd like to become an owner of one of the #XFL teams. I think Indianapolis would love the #XFL... also, gonna need a pretty large loan as well. Thank you. pic.twitter.com/gvtKyG97Yq

— Pat McAfee (@PatMcAfeeShow) January 25, 2018
simpsons predicted trump as president but they also predicted season two of the XFL pic.twitter.com/1QV23bJ3ly

— DougExeter (@DougExeter) January 25, 2018
Will the league succeed?
Vince McMahon will be using the company he created, Alpha Entertainment, to create the new league.
CBS confirmed that WWE itself is not getting involved as he sold his shares to fund it. There will definitely be some changes to this league from the old one, and nostalgia will probably bring some people in to start. However, it is hard to say if it will succeed as the NFL has already declined in viewership for various reasons. Football itself is suffering because of the ever-awareness of concussions, and the XFL prided itself with rougher play.
Will it be as "extreme" on the field? There is reason to believe that safety measures will be a bit higher than the first league.
The "X" in XFL may go from its style of play to other things like different rules or entertainment during games. It does not seem likely they will play with the same intensity they did in 2001 with the further awareness of concussions and head trauma. In the end, the public will have to wait until 2020 to see it unfold.