NBA Rumors: Heat actively looking for star, Pistons linked to 3-and-D veteran
The Heat are still wishing for a star to arrive on South Beach, while the Pistons might explore a trade to address at three spot.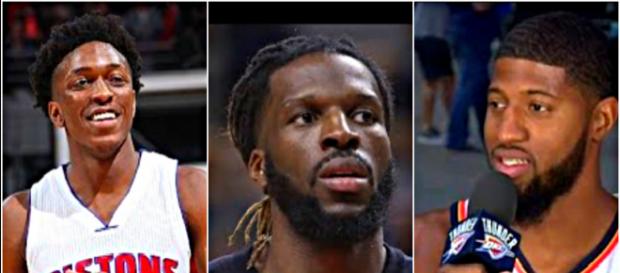 The Miami Heat might still consider a blockbuster move at the trade deadline, according to Ira Winderman of the Sun Sentinel. The Heat are currently in the thick of the playoff race in the Eastern Conference, sporting a 19-17 record through the first three months of the 2017-18 NBA season. However, Winderman feels the Heat would have been in much better position had they managed to land an All-Star caliber player in the off-season.
In Dec. 18 edition of his mailbag, Winderman tackled the idea of a blockbuster move at the trade deadline.
Asked if the Heat would be interested in kicking tires on Paul George should OKC make him available, the Miami Heat beat writer agreed that Heat front-office would definitely explore such move no matter how high the risk involved.
NBA Trade Rumors: 'SMH' meter on Gasol to Blazers, Cousins to Lakers buzz https://t.co/Ji75AOUGg6

— Anime/Sports Updates (@Shonen_lord) January 1, 2018
"Even with George standing as an impending free agent, it is the type of all-or-nothing gambit that Riley seemingly would risk, should the Thunder decide to sell George off before he hits free agency in July," Winderman stressed.
Star-Searching
After missing on Gordon Hayward and other marquee free agents in the offseason, the Heat are still actively searching for a star who can step up in big situations. George can obviously fill the role, but his availability will entirely depend on the Thunder's form in February. So far, George appears to be a keeper in Oklahoma City, with the Thunder starting to gain some success with their All-Star triumvirate.
Still, Miami is expected to be an active player weeks building up to the trade deadline.
Big names such as DeMarcus Cousins, Marc Gasol and DeAndre Jordan could be up for grabs, and Riley will surely pay close attention to every activity on the trading front.
Pistons looking for battle-tested vet
Vince Ellis of the Detroit Free Press provided some insight on the Detroit Pistons' mindset heading into the last six weeks of the trading window. Ellis mentioned several potential trade candidates on the Pistons rosters, including starting point guard Reggie Jackson, newly-acquired two-way guard Avery Bradley and center Boban Marjanovic.
The Pistons are very much in the position to clinch a playoff spot this season, but they need another game-changer to go deep in May.
Ellis is closely watching on third-year forward Stanley Johnson. The former No.8 pick is still struggling to establish his presence under Stan Van Gundy. Many NBA scouts fear Johnson might have already reached his ceiling, while other think the youngster would thrive in a different system.
Knicks Rumors: Insider report on Jabari Parker, Kristaps Porzingis, more https://t.co/3evKcE7rTR

— Anime/Sports Updates (@Shonen_lord) December 22, 2017
Nonetheless, Ellis view Johnson as potential trade candidate the Pistons could flip for that game changer.
He believes Detroit might be interested in DeMarre Carroll of the Brooklyn Nets. There's no argument that Carroll is overpaid at $13M per year. However, the 31-year-old 3-and-D guy could fill the Pistons' weak spot at the small forward position.
"With Johnson's struggles, the team could use a starting-caliber small forward. The Toronto Raptors outbid the Pistons for Brooklyn Nets small forward DeMarre Carroll in the 2015 offseason. Later traded to the Nets, Carroll could be a name to watch," Ellis stated in his article.
Click to read more
and watch the video
or