Isaiah Thomas will return this month
Isaiah Thomas has been inactive all season due to a hip injury, but he is likely to return in the coming weeks.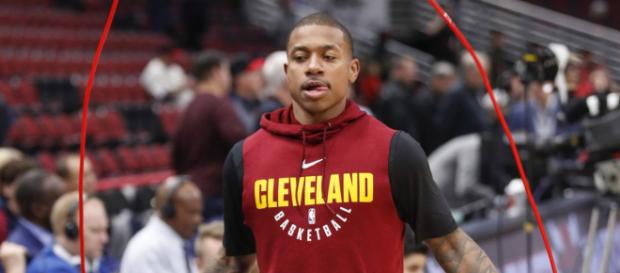 The Cleveland Cavaliers have had a very up and down season so far, going 19-8 in their 27 games of the 2017-18 campaign. Although this record is nothing staggering, they have won 14 of their last 15 games, dominating their opponents both defensively and offensively. This winning streak was surprising for them as they had started the season with a poor record of 5-7 in their first 12 games. Although they have not had a perfect season so far, the LeBron James-led Cleveland Cavaliers still hold the second-best record in the Eastern Conference, just behind the Boston Celtics, and they have done so without their superstar point guard who has been out with a hip injury.
isaiah thomas sustained a hip injury ironically last season in the playoffs against the Cleveland Cavaliers, when his team, the Celtics, were up against the reigning champions in the Eastern Conference Finals. The extent of this injury wasn't released to the public and people believed they would see Isaiah in action at the start of the next season. But after an insane trade that sent Kyrie to the Celtics and Isaiah to Cleveland, it was revealed that Thomas had an injury that would take months to heal.
Although the Cavs would've loved to have their talented point guard in the lineup to start the season, Isaiah has still gained great chemistry with his teammates and is looking to return to the court and make the team even better than they are right now.
Isaiah to return in one to two weeks
The Cavaliers added a lot of new players this season, and lost a few old ones, but after a rough start due to chemistry issues, the Cavs have been clicking on all cylinders recently. Despite playing without Iman Shumpert, Tristan Thompson, Derrick Rose and of course Isaiah Thomas, they have still done an outstanding job, led by MVP contender LeBron James.
And with TT and Isaiah returning in the coming weeks, they will be looking to keep their excellent performances going, while meshing them into the lineup smoothly.
Although TT and IT will return very soon, the Cavaliers will be without Iman Shumpert and Derrick Rose for some time. Shumpert is expected to be out for two months, and Rose was expected to return in the next few games but a bone spur in his left ankle has left the Cavs concerned as he may need surgery.
Isaiah is ready
The Cavaliers have not rushed Isaiah Thomas' return at all, they have and will make sure he is at full health before putting him back on the court.
Recently though, Thomas has participated in the teams drills and four on four scrimmages, and he has impressed the coaching staff. Compared to the start of the season when I.T. could hardly jog, he is now running up and down the court with ease.
After scrimmaging with the Cavaliers, the point guard said he feels "pretty good", and his excitement to get back on the court playing the game he loves is through the roof. He has been talking about the 'slow grind' all season long, and that grind has paid off.
Thomas was initially expected to return in January, but is now scheduled to return halfway through December.
Click to read more
You will watch a video to read the news
or