Washington Wizards win against Philadelphia 76ers 120-115
The Washington Wizards tipped off its regular season with its first win against Philadelphia 76ers.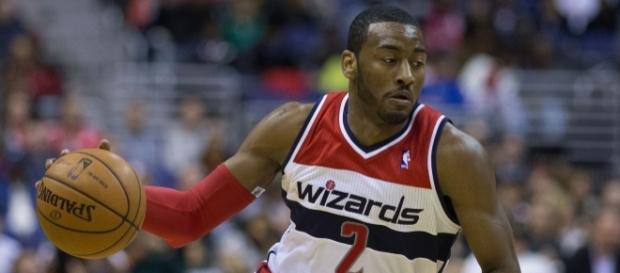 The #Washington Wizards began their NBA regular season with a win against the #Philadelphia 76ers, 120-115. It was a close game but The Wizards held on to beat The 76ers. The first quarter ended with The Wizards leading by nine points in a 32-23 game. The 76ers however, tried to fill the gap with a twelve point lead in the second quarter (24-36). After halftime, The Wizards again took the lead in the third quarter with eleven points (34-23) and although the 76ers had a three-point advantage in the fourth quarter, The Wizards wrapped up the game with a five-point lead (120-115). The Washington performed with a total of 43.3 percent field goals, 27.3 percent in the 3 point range and 78.9 percent free throws against 76ers with 45.7 percent total field goals, 42.9 percent 3 point shots and 73.7 percent free throws.
John Wall led the Washington Wizards with 28 points
John wall led the victory with a score of 28 points (FG 10/28, 3PT 0/3 and FT 8/9), five rebounds, eight assists and two personal fouls in 37 minutes. Followed by Bradly Beal with a score of 25 points (FG 6/17, 3PT 1/4 and FT 12/16), six rebounds, four assist and two personal fouls and Marcin Gortat with 16 points (FG 7/12, 3PT 0/0 and FT 2/3), seventeen rebounds, one assist and three blocks. Wall proved in the game why he is one of the best point guards in The NBA. He wasn't that productive in the field but he made sure he got his teammates involved incurring just two turnovers. In the past three seasons, he has increased his points per game and has averaged 10-plus-assists over the same stretch. On the other hand, Bradly Beal had a better defense than the usual as he has never averaged more than 1.2 steals per game in a single season.
While somewhat odd that he only had one of his four attempts in the three-point line, it was an impressive performance for the sixth-year shooting guard.
Robert Covington of the Sixers had 29 points
Covington garnered 29 points(FG 9/15, 3PT 7/11 and FT 4/4), seven rebounds, two blocks and one assist in 29 minutes during the 120-115 loss to the Wizards. The second and third top players of the Sixers for the game were Joel Elmbiid with 18 points(FG 7/15, 3PT 0/4 and FT 4/4), thirteen rebounds, one block and three assists in 26 minutes and Ben Simmons with 18 points (FG 7/15 and FT 4/6), ten rebounds, one block and five assists in 34 minutes. Covington showed great upside on both ends of the floor last regular season and continued during Wednesday's game. Across 31.7 minutes per game in the 2016-2017 season, he averaged 12.9 points, 1.9 steals, 6.5 rebounds, 1.0 block per game and 1.5 assists. #John Wall