Timberwolves defeat Jazz; Warriors survive against Pelicans
The Minnesota Timberwolves got their first win of the season as they defeated the Utah Jazz on Friday night.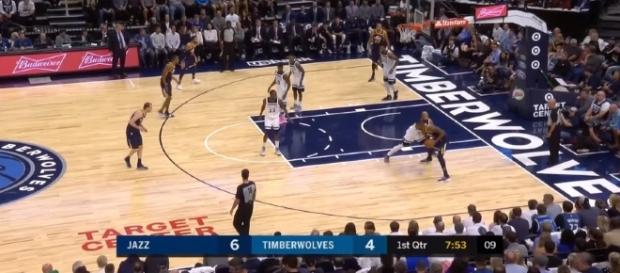 The Minnesota Timberwolves are hoping to finally make some noise in the Western Conference this season. With the additions of Jimmy Butler and Jeff Teague, the Wolves are looking to make the playoffs for the first time since the 2003-04 season. They lost their first game of the 2017-18 season against the San Antonio Spurs earlier this week and on Friday night, they hosted the Utah Jazz. Target Center in Minneapolis was fully packed with 19,000 fans as the Wolves were looking to get the win in front of their home crowd.
Narrow win for Minnesota
It was a low scoring first quarter as both teams struggled to score and played solid defense.
Minnesota held a 19-16 lead after the first 12 minutes of the game. Midway through the second period, the Jazz took a 36-31 lead, but it was 46-42 for the home team at halftime. Late in the third quarter, Utah was once again in front 65-58, but the Timberwolves regained the lead at 70-65 heading into the final period of the game. The teams went back and forth in the fourth quarter, but it was the Wolves who were the more focused team as they ended up with a 100-97 win. Minnesota outrebounded Utah 44-37 in this one and they also forced the Jazz to commit 19 turnovers.
Andrew Wiggins was the leading scorer for Minnesota once again. Wiggins finished the game with 21 points and five rebounds in 34 minutes of action. Karl-Anthony Towns added 20 points and 10 rebounds, while Jamal Crawford contributed with 17 points off the Timberwolves bench.
Rodney Hood led the visitors with 20 points and four assists in this one. Ricky Rubio added 19 points and 11 assists for the Jazz.
Champions bounce back with a victory
After losing their season opener against the Houston Rockets, the Golden State Warriors faced the New Orleans Pelicans on Friday night. They found themselves trailing by 13 points after the first quarter in this one, as the Pelicans held a 39-26 lead. The Warriors went on to score 35 points in the second quarter but the Pelicans still held a 64-61 lead at halftime. It was in the third quarter when the Warriors took control of this game. They outscored New Orleans 37-26 in the third period and held a 98-90 lead heading into the fourth quarter. Golden State had no trouble in closing out the game as they celebrated a 128-120 victory, giving them their first win of the season.
Klay Thompson led the Warriors with 31 points on 12-of-19 shooting from the field. Stephen Curry added 28 points and eight assists, while Kevin Durant finished with 22 points and eight rebounds.
For the Pelicans, it was Anthony Davis with 35 points and 17 rebounds who led the way. He had great help in DeMarcus Cousins, who finished with 35 points and 14 rebounds, but it wasn't enough. #Utah Jazz #Minnesota Timberwolves #Golden State Warriors