The Penn State Nittany Lions face a tough road ahead
With three top 25 opponents up next on their schedule, Penn State will have to prove themselves to make it to the college football playoff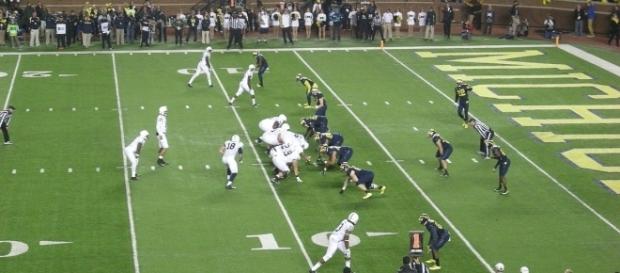 #Penn State has not faced a ranked opponent yet this season but their next three contests come against AP top 25 schools. This will be the true test to see if the #Nittany Lions and Heisman hopeful Saquon Barkley have what it takes to be championship contenders.
One Game at a Time
James Franklin is only worried about this upcoming week against the Michigan Wolverines and is trying to avoid as many distractions as possible. Penn State will be playing its annual white out game on Saturday at home in front of more than 100,000 fans. The Wolverines only have one loss and it came to their rivals Michigan State in Week 6. Michigan wants to prove themselves to the Big 10 and all of college football behind their senior quarterback John O'Korn.
Last week Michigan barely outlasted Indiana 27-20 in overtime and Penn State is coming off a bye week so they have had plenty of time to prepare for Big Blue. Penn State has the edge in almost every category, scoring more and allowing less points than the Wolverines. Michigan has a stout defense though which allows less yards per game than Penn State, but on the offensive side of the ball they cannot put up the same numbers as the Nittany Lions. Watch out for Saquon Barkley as he hopes to further his Heisman campaign on Saturday. Right now he is the team leader in rushing and passing yards and he has a solid quarterback in Trace McSorley. Don't expect this one to be a blowout either way; This is going to be a tough contest for both teams and a great game to watch as it is a "must win" for both sides.
Big Ten Playoff Situation
Many would argue that the Big Ten is the strongest conference in college football right now and that would be hard to deny. Five teams are representing them in the AP poll this week and that is more than any other conference. Consistently they have had more teams in the top 25 poll this year than any other conference and right now two of them are in the top 5. This creates a lot of competition for the playoffs because many suspect that the Big Ten will only get one team in the bracket. At this point it is anyone's game and no one has the upper hand. Penn State, Wisconsin, Ohio State, and Michigan State all control their own destiny. If any of these teams wins out and wins the conference championship game, there should be no doubt they will be going to the playoff. For Michigan, they would have to win out and the Spartans would have to lose two conference games for them to have a shot. Wisconsin right now has the Big Ten West all but wrapped up and they will easily make it to the conference championship. The East though is still up for grabs and it should be a very interesting road for all the Big Ten teams over the next six weeks. Penn State has no room for error at this point and they have to be on the top of their game for the rest of the season to stay where they are in the polls. #college football playoff