NBA News: The Toronto Raptors win against the Philadelphia 76ers, 128-94
The Sixers received their third consecutive loss of the regular season.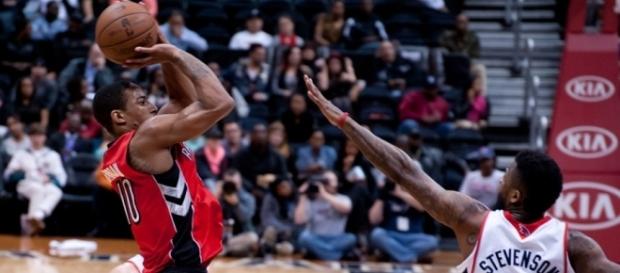 The Philadelphia 76ers (0-3) struggled to find their win as they receive their third consecutive loss after their defeat over the Toronto Raptors (0-2) at the Air Canada Centre, Toronto (128-84). With the help of DeMar DeRozan, the Raptors gain their biggest win ever against the #Philadelphia 76ers. Their 34-point margin got past their 32-point win against the Sixers on Nov. 9, 2014. Dating to last season, the Sixers have lost five straight road games and also committed a season-worst 20 turnovers. The Raptors finished with a total of 54.3 percent from the field goal, 29.5 in three-point line and 83.8 percent free throws against the Sixers who performed with 39 percent from the field goal, 33.3 percent in the three-point line and 61.1 percent free throws.
DeMar DeRozan of the Raptors felt ill throughout the day
Despite feeling ill, DeRozan delivered for his team scoring 30 points with 3 rebounds, three assists and committed only one turnover and three personal fouls in 26 minutes. After the game, he was sent home without speaking to the reporters. He made eight of 12 field goal shots and dropped 14 of 16 from the free throw line. In the first quarter, DeRozan collected 15 points going four of four from the field and hitting seven of eight free throws to give the Raptors a 36-19 lead.He scored more points in the first quarter (15 points) than he did in their last win over the Chicago Bulls. Toronto also made more free throws in the first (14) than their field goals (10) and finished 31 for 37 from the line and 13 of 44 from the long range.
Serge Ibaka drills five threes over the Sixers
Ibaka tallied 21 points, five rebounds, two assists and two blocks in 25 minutes. He made seven of 12 in the field, five of nine in the three-point line and hit two of two free throws. In their last two games, Ibaka has yet to see over 25 minutes. In their last game against the Bulls, he contributed eight points shooting three of eight from the field and two of four in the three-point line across 24 minutes.
Kyle Lowry scores 17 points in blowout
Lowry finished with 17 points, five rebounds and five assists in 28 minutes. He scored six of 12 in the field, four of ten in the long range and made one of two free throws. He made a underwhelming debut for the #Regular Season against their blowout win over the Chicago Bulls scoring 12 points, nine assists four rebounds and one steal. He made four of seven in the field, one of three in the three-point line and three of three free throws. Due to their last two blowout wins, Lowry had little reason to play big minutes or exert too much energy. #Toronto Raptors