Eric Bledsoe sent home from team meeting, Suns looking for trade partner
The Suns guard isn't happy and he wants out of Phoenix immediately, just like his former coach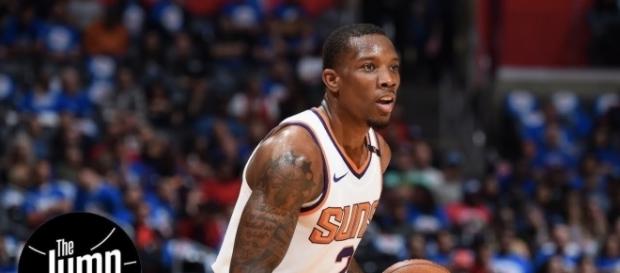 The Phoenix Suns have had a hard start to the new NBA season. Starting 0-3 and losing two of those games by 40+ points, the Suns have already fired Earl Watson, their head coach. Now they have drama amongst their players. Guard #Eric Bledsoe posted a since-deleted tweet stating his displeasure in Phoenix. In the tweet, he said "I don't want to be here." He met with team officials Tuesday during shootaround and has been sent home, meaning he won't play against the Kings. The Suns have now reached out to teams about possible trades for the guard.
Sun don't shine in Phoenix
Eric Bledsoe has been voicing his displeasure with the Suns for a while now.
Sources say that the guard sat down with owner Robert Sarver and general manager Ryan McDonough in the preseason and asked for a trade. Bledsoe's main gripe with the team is about the direction they are going. He desires to be with a winning team and he sees that the Suns are not even close to being in contention for a playoff spot. The Suns' organizations argue that Bledsoe hasn't improved since young star Devin Booker took more responsibilities for playmaking. Bledsoe has averaged 18 points a game during his time in Phoenix and saw early success when he played alongside Goran Dragic, before he was traded to the Miami Heat.
McDonough said that Bledsoe told the Suns' organization that his tweet was about him being at a hair salon and not about his time in Phoenix according to sources. He doesn't believe that and he and the Suns are currently looking at a variety of trade options for Bledsoe, as his game against the Clippers probably was the last game he played for Phoenix.
Destination assist
Bledsoe's name has gained interest since the Suns have made him available for trades. One of the teams that have shown interest was the #New York Knicks. The Knicks would be a good fit for Bledsoe as he could be the veteran star for Kristaps Porzingis to help elevate his game. But the winning situation isn't there in New York, so that wouldn't be the best option. Bledsoe has no control where he goes, so it is up to the Suns if they want to put him in a winning situation or not. A better fit for Bledsoe could be a team like the Spurs or even an insurance pickup for the Rockets now that Chris Paul might miss some time with his knee injury. The Bledsoe campaign is over in Phoenix and now that he is getting shipped out, the Suns will now embrace their need to rebuild the team from the ground up. It all starts with a new head coach. #The Sun