David Goffin reaches Tokyo semi-finals in style
David Goffin beat Richard Gasquet to set up a Tokyo semi-final meeting with Diego Schwartzman.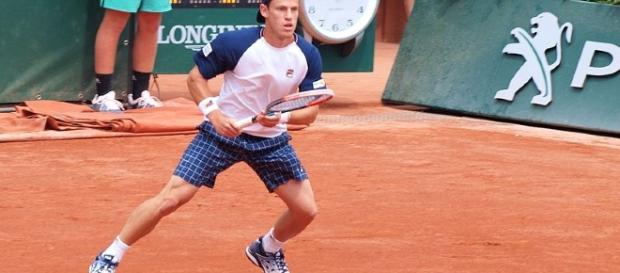 No. 2 seed #David Goffin has reached the Rakuten Japan Open Tennis Championships semi-finals. Belgian Goffin saw off world No. 30 Richard Gasquet in the Tokyo quarter-finals 7-5 6-2. Goffin, 26, and 31-year-old Gasquet met for the first time this Friday.
No breaks of serve were seen until the sixth game of the match. Gasquet saved three break points early on, while Goffin saved one break point in the fourth game. Gasquet opened up a 5-2 following his break earned in the sixth game.
Gasquet seemed to be cruising to taking the opener. But, shockingly, Gasquet blew three consecutive set points on his serve in the ninth game.
Goffin then broke Gasquet in the 11th game before he served out for the opener a game later. The No. 2 seed won the last five games of the first set.
Goffin continued his run by winning the first two games of the second set. Gasquet had break points in the second and fourth game but didn't convert. One more break of serve in the fifth game helped Goffin get the job done in straight sets.
Goffin hit eight aces and won 80 percent of his first serve points against Gasquet. The Belgian broke Gasquet four times and saved 3-of-4 of the Frenchman's break point chances. The match came to an end after an hour and 37 minutes of action.
Goffin plays Schwartzman next
Goffin is now set to meet No. 8 seed #Diego Schwartzman. World No. 29 Schwartzman edged USA's Steve Johnson on Thursday in Tokyo 6-0 7-5.
It was the first-ever meeting between Schwartzman and Johnson.
Schwartzman needed five break points to take the opening game of the match. Schwartzman also broke Johnson in the third and fifth game to take a 5-0 lead. The No. 8 seed then routinely served out for a bagel in the following game.
Johnson finally got on the board by winning the first game of the second set. Johnson had a set point at 5-4 in his favor on Schwartzman's serve -- but didn't convert. Johnson then paid the price by getting broken in the 11th game to fall 6-5 down. Johnson saved five match points in the 12th game before Schwartzman converted his sixth to claim the win.
Schwartzman won 78 percent of his first serve points and saved Johnson's only break point chance of the match. Johnson's serve was pressured by Schwartzman almost the entire match. Johnson saved 4-of-17 of Schwartzman's break point chances in an hour and 33 minutes of play.
Goffin has the edge
Goffin and Schwartzman will be meeting for the fourth time when they clash off in the Tokyo semi-finals. The head-to-head record between the two stands on Goffin's side. The Belgian beat the Argentine in the 2015 Davis Cup semi-finals and at this year's Miami Masters. Argentina's Schwartzman surprised fan-favorite Goffin a year ago in Antwerp. Goffin just narrowly beat Schwartzman by a 7-5 third set score in their last matchup. #Semi Finals