Dallas Cowboys news: Team falls in NFL power rankings, gets Elliott back
Despite dropping in the latest NFL power rankings, the Cowboys have Ezekiel Elliott back on the field in Week 7.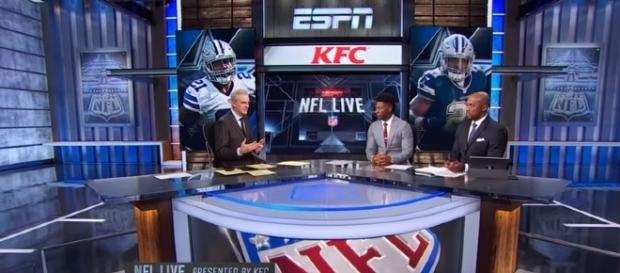 Dallas Cowboys news has been quite interesting as Week 7 of the #NFL season gets underway. The first big piece of news was that running back #Ezekiel Elliott is back with the team after another temporary restraining order was put into effect. A report by the NFL confirmed that Elliott is eligible to play against the San Francisco 49ers on Sunday (Oct. 22), giving the Cowboys another edge in what looks like an easy game on paper.
Even though it's a road game against the 49ers, the ESPN Matchup Predictor states that the Cowboys have a 72.4 percent chance at winning this matchup. The 49ers have started out the season 0-6 and there haven't been many signs of improvement on the roster.
The team still has a few weapons, like running back Carlos Hyde and receiver Pierre Garcon, but there aren't any NFL analysts calling this team "good" after six games.
Updated power rankings for Week 7
Despite having a bye week, the Dallas Cowboys return to the field a bit lower in nearly every NFL power rankings. In the new list from ESPN, the Cowboys slipped from No. 9 down to No. 12. It's an odd piece of Cowboys news, as the team had no control over where the analysts felt the team should be on these lists. At the same time, starting out the season with a 2-3 record wasn't the best way to convince the "talking heads" that the Cowboys are playoff contenders.
Who were the teams that passed the Cowboys in the Week 7 NFL power rankings? The Houston Texans (3-3), Washington Redskins (3-3), and Los Angeles Rams (4-2) jumped past them according to ESPN.
Over at CBS Sports, NFL expert Pete Prisco released his new list as well, with the Cowboys dropping four spots to No. 17 in his latest list. That's a big drop for a team on its bye week, especially since Prisco still has the Cowboys ahead of the Texans.
What's coming up for the Cowboys?
With the bad injuries for the Green Bay Packers [VIDEO] and the Tampa Bay Buccaneers struggling a bit this season, there could be additional openings for Wild Card teams in the 2018 NFL Playoffs. This gives the Dallas Cowboys a bit of wiggle room when it comes to getting healthy, having Ezekiel Elliott back on the field, and finding some consistency on both sides of the ball. It means the Cowboys don't necessarily need to catch the Philadelphia Eagles (5-1) in the NFC East.
In a must-win week for the Cowboys, the only better opponent than the San Francisco 49ers would be the Cleveland Browns. The Cowboys just need to come out and play their game on Sunday and this one should easily slide into the win column. Then the schedule gets really tough, as the Cowboys have to play the Washington Redskins, Kansas City Chiefs, Atlanta Falcons, and Philadelphia Eagles in successive weeks. By the end of November, fans will have a real feeling as to whether this Dallas Cowboys roster has what it takes to go deep in the postseason. #DallasCowboys