Cubs vs. Nationals Game 5: Live stream, TV channel, time & NLDS odds
Chicago and Washington play for a spot against the Dodgers in the 2017 NLCS.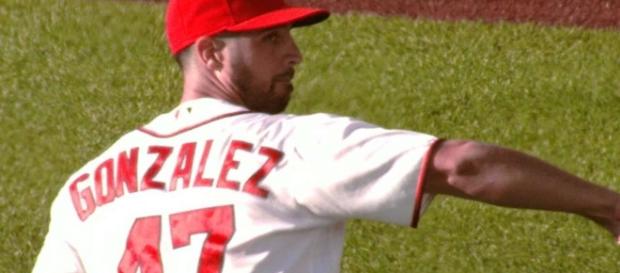 The Chicago Cubs and Washington Nationals lay it all on the line Thursday night. It's #game 5 of their National League Division Series with the winner moving on to face the Los Angeles Dodgers in the NLCS. The Cubs are hoping, based on the series history, that they'll get the big victory on the road to advance to the NLCS. Here's a look at tonight's Cubs vs. Nationals Game 5 with odds to win, run total, start time, #TV Channel, and live streaming options.
MLB game preview
It's been another exciting series in the 2017 MLB Playoffs with the Cubs and Nationals each winning two games in the series. It hasn't been one of those situations where the home team wins all their games either.
The two squads have split wins with one another in the different ballparks. The most recent game saw the Washington Nationals prevail 5-0 in Chicago.
Stephen Strasburg stepped up for the Nationals in that game as he was reportedly suffering from an illness but stayed on the mound for seven innings. Washington's ace delivered a win after seven shutout innings in which he struck out 12 batters. The Nationals picked up the bulk of their runs in the top of the eighth inning behind a grand slam home run from Michael Taylor. That made it 5-0 in favor of the visitors, and the rest is history. Now they'll try to make it back-to-back wins, something neither team has managed to do in this series.
Tonight's pitching matchup has been reported as Kyle Hendricks (8-5, 2.88 ERA) starting for the Cubs on one side.
On the other side, ESPN indicated that left-handed pitcher Gio Gonzalez (15-9, 2.96 ERA) would be on the mound for the Washington Nationals.
Oddsmakers originally pegged the Chicago Cubs as tonight's favorites to win. The Odds Shark reported that the moneyline first opened at -115 in favor of the Cubs, with the home team priced at +105. However, it has since moved quite a bit with the home team at -106 to -108 and the visitors at -103 or -104 at various sportsbooks. The runs total is at 7.5 runs for the complete game.
How to watch it live
Thursday night's Chicago Cubs vs. Washington Nationals Game 5 is scheduled for an 8:05 p.m. Eastern Time start. Live television coverage of the NLDS final game will be made available through the TBS network. Cable and satellite subscribers who have TBS as part of their channel lineup should be able to log into the TBS.com/watchTBS area of the website to see a live streaming feed of the game.
There's also a free option to consider for live streaming tonight's game. Customers can sign up for the SlingTV channel streaming service to watch TBS online. The service is currently available on a one-week free trial basis and includes TBS on both the Sling Orange and Sling Blue channel packages. #Nl Championship Series