Cleveland Cavaliers Rumors: Derrick Rose back in starting lineup
Rose had been dealing with a sprained ankle, but he returns to a new-look starting rotation from Tyronn Lue.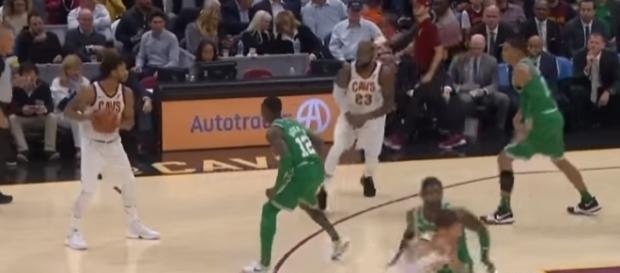 Cleveland Cavaliers rumors reveal that Derrick Rose is back in the starting lineup when the Cavs take on the New Orleans Pelicans on Saturday (Oct. 28). Cavs coach Tyronn Lue made the announcement, but it didn't end there, as he will be working with another new iteration of the starting five. This will be the fourth lineup that the Cavs have already used in the first six games of the 2017-18 NBA season. It likely won't be the last.
Joining Derrick Rose as the starting point guard will be J.R. Smith at shooting guard, LeBron James at small forward, Kevin Love at power forward, and Tristan Thompson at center.
This information was confirmed in a report by Cleveland.com and it should remind Cavs fans of the lineups that Lue used against the Golden State Warriors. The only change, in that regard, is that Rose has replaced Kyrie Irving.
A strong bench for the Cavs
With those five players now starting, it means Jae Crowder, Dwyane Wade, and Kyle Korver will be leading the second unit. Those are three strong players who could start on many NBA teams, allowing Lue to work with a number of combinations on the floor later in games.
The team is still light in the category of point guards, but James and Wade can handle some of those chances when Rose is out of the game.
Lue spoke about how he deemed it necessary to move Kevin Love out of the center position, as he was taking a beating and hadn't been able to use his three-point shot as a reliable weapon in most games. "I think it's better, too, because having Kevin bang with those big guys, it's wearing him out for his shot and having to (guard) all the pick-and-rolls, it's a lot of energy to ask of Kevin, especially when he has to be one of our primary scorers."
Cavs during 2017-18 NBA season
Through the first five games of the current season, the Cleveland Cavaliers are 3-2 and just behind the Orlando Magic (3-1) and Washington Wizards (3-1) for the best record in the Eastern Conference.
The Cavs have averaged 107.4 points per game on offense, while the defense is allowing 106.8 points a contest. That differential needs to get a bit better to find extended success and maybe the new lineup will afford them that opportunity.
With Kyrie Irving and the Boston Celtics getting back on track, it will be important for the Cavs to find stability and success in a lineup. This might be the "one" for Cavs coach Tyronn Lue, with four of the five players very familiar with being on the court together.
If Derrick Rose can find a nice niche with that starting five, maybe it will also quiet down some of the Eric Bledsoe trade rumors. Game time on Saturday against the New Orleans Pelicans is 7 PM ET for the Cleveland Cavaliers.
Click to read more
You will watch a video to read the news
or