Giants offense is a no show, lose Monday night battle with Lions
The Giants offense continues to struggle even with Odell Beckham Jr. in the lineup.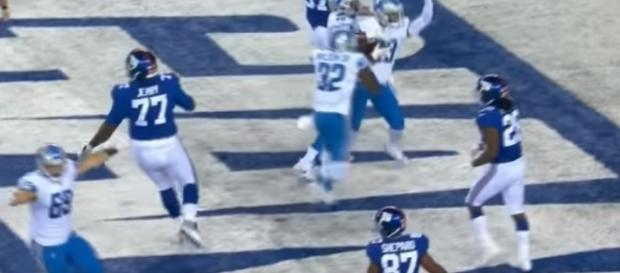 The Giants were looking to find a spark on offense against the Detroit Lions. They got good news before the game when Odell Beckham Jr. got the green light to play in the game. The Giants have failed to protect #Eli Manning, as the offensive line is the major concern for their team. After week two, those problems continue to be an issue, as the offense failed to show up. Only scoring ten points, the Giants failed to find any offensive rhythm and were beat up by the Lions. The Lions were able to run a balanced offense, and able to take advantage of New York's banged up defense. Detroit came into Met Life Stadium and handled the Giant easily 24-10.
Offensive no show
The Giants offense couldn't get anything done on offense even with Odell in the game. Beckham played in a limited role, only catching four passes for 36 yards. The biggest story of the game has been the story of the Giants since last year. Their offensive line looked like they had no idea what to do, as the Lions had target practice on Eli Manning. Manning was sacked five times and was hit eight other times. The inability to protect Eli has trickled over to other parts of the team. The Giants don't have a run game worth planning for, so they are relying on Manning to throw them out of situations.
The poor play of the Giants offense isn't something that just came up. Their offense hasn't been able to put up points to keep them in the game. This is the eighth straight game since last season that New York has failed to score over 20 points.
This has an effect on the defense, as they are continuously on the field and that leads to fatigue and mental mistakes. The state of the offense isn't good and the Giants need to go back to the drawing board and find some answers.
Keep it balanced
Matt Stafford didn't have to throw 30+ passes #Monday Night in order to get them the win. The Lions were also in unfamiliar territory all night because they were playing with the lead. The Lions are famous for putting together fourth-quarter comebacks, but that wasn't needed in this game. The offense was a well-balanced machine tonight, running and passing the ball well the entire game. The Lions also played very well n the defensive side as well, giving the Giants headaches all night. Ziggy Ansah carried the load for the defense as he racked up three sacks. If Detroit can continue to run the ball well and get pressure on the quarterback, they will be a dominant team in the NFL.
The Giants continue to struggle, failing to move the ball on offense due to terrible offensive line play. The Lions begin the season 2-0 and looking to continue their balanced offensive attack. The Giants have more questions than answers, and they need to fix these problems before they fall out of the NFC East champion race. #Odell Beckham