Cleveland Indians bounce back with 8-4 victory over Royals
After their AL record winning streak was snapped Friday night, Cleveland bounced back with a win.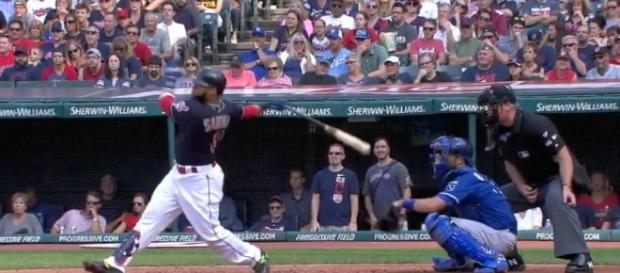 Friday night saw a historic 22-game winning streak come to an end for the #Cleveland Indians as Francisco Lindor struck out in the bottom of the ninth inning. On Saturday, Lindor continued to make history as he and the Indians bounced back. The team captured an 8-4 victory over the #Kansas City Royals to avenge the loss from the night before. Here's the latest Royals vs. Indians recap with top players, game stats, a standings update, and a look at the upcoming games for these two MLB teams.
MLB game recap
During today's Cleveland Indians' win, Francisco Lindor hit a double in the sixth inning while Jason Hammel was on the mound.
That hit gave Lindor an extra-base hit in 10-straight games. That's an Indians' record and just four shy of the all-time MLB record. Paul Warner (1927) and Chipper Jones (2006) had 14-straight games with an extra-base hit during their respective seasons.
The Indians grabbed a 1-0 lead in the bottom of the second inning on an Abraham Almonte sacrifice fly to center field scoring Jay Bruce. Alex Gordon hit a solo home run for the Kansas City Royals to tie it up at the top of the third. However, Cleveland had a three-run third inning to reclaim the lead. That included a RBI single from Carlos Santana to score Lindor and an Edwin Encarnacion sac fly to score Austin Jackson. The Royals would try to battle back, adding another run in the top of the fourth but Cleveland kept on bringing the pain.
In the bottom of the sixth, Lindor hit a double to deep left which scored both Yandy Diaz and Almonte. Next, Jackson singled to center scoring Lindor. An error by the catcher allowed Jackson to score as well, making it a 7-2 game. From there, Kansas City could only add two more runs and the Indians ended up winning 8-4 after an Edwin Encarnacion home run in the seventh.
Carlos Carrasco started today's game and got the win to move to 16-6 for his season. In the game today, he pitched 6.2 innings, struck out five batters, and gave up eight hits for four runs. Jason Hammel picked up the loss to go to 8-12 after working six innings and giving up 11 hits for seven of Cleveland's eight runs.
Standings & what's next
Today's win makes the Cleveland Indians 92-57 for the season. The team has a 44-30 home record at Progressive Field. They've already clinched a playoff spot and are 14.5 games ahead of Minnesota to hold the AL Central division lead. Corey Kluber gets the start on Sunday at 1:10 p.m. Eastern Time as the Indians host the Royals again.
The Kansas City Royals drop to 73-75 overall and 34-39 away. They still have a shot at the Wild Card Spot in the AL as they're just four games back from the Minnesota Twins for the second of two spots. Next up, they'll face the Indians again on Sunday starting at 1:10 p.m. Eastern Time with Danny Duffy (8-8, 3.78 ERA) on the mound. #Extra Base Hit