What is so important about this preseason game?
The Houston Texans and Carolina Panthers get ready to kick-off their 2017 preseason schedules.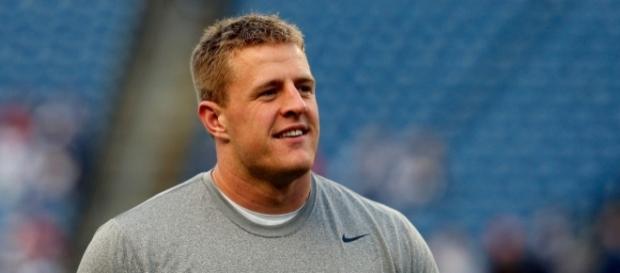 Are you ready for some Wednesday night football, courtesy of the NFL? That's what the fans in Charlotte, North Carolina will be treated to when the defending AFC South champion #Houston Texans travel east to clash with head coach Ron Rivera and his Panthers. The Texans have been a division champion in each of the past two years and four times in the last six seasons. Meanwhile, the Panthers finished 6-10 in 2016 after a 15-1 record and Super Bowl 50 berth the previous year. Since it's the first preseason game for both teams in '17, don't expect to see many starters from either franchise for any great length of time. But you get the sense that a three-time NFL Defensive Player of the Year is anxious to see the field this evening.
Key newcomers and returns
Despite the fact that defensive end J.J. Watt was hobbled early last season with back issues and wound up playing only three contests, the Houston Texans allowed the fewest total yards in '16. Led by defensive end Jadeveon Clowney and outside linebacker Whitney Mercilus, the team still made it very tough on the opposition. Still, don't be surprised when Watt's-his-name spends more time than usual in this preseason tilt. Of course, the real concern for head coach Bill O'Brien is finding a reliable quarterback this season. Since his arrival in 2014, #The Texans have utilized eight different starters behind center. Despite that unnerving statistic, the team finished 9-7 each year under his command.
Of course, the Panthers aren't worried about finding a starting quarterback.
Cam Newton was a little battered and bruised a year ago but was still the NFL's Most Valuable Player in '15. But he won't be doing any playing in this contest, rather, veteran Derek Anderson gets the start (courtesy of Jourdan Rodrigue of the Charlotte Observer). He's followed by Joe Webb.
What will we see?
Again, it's the first game of the summer for the Houston Texans, as well as the Carolina Panthers. The former has some work to do in terms of its quarterback situation. You'll see Tom Savage get the start but it will be interesting to see when 2017 first-round pick Deshaun Watson gets his turn. Meanwhile, Carolina's own top pick has drawn rave reviews this summer. Running back Christian McCaffrey did a lot of everything for the Stanford Cardinals in recent seasons. The Panthers made him the eighth overall pick in April and so far in training camp he has made quite the impression. It will be intriguing to see how many different ways the team utilizes McCaffrey in this first preseason tilt of 2017. #Carolina Panthers