Rafael Nadal cruises past Coric, sets clash with Shapovalov
The Spaniard is just two matches away from reclaiming the world No. 1 position.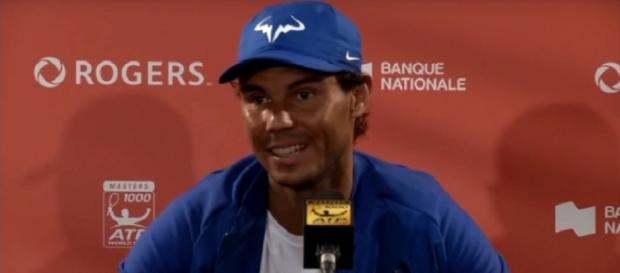 Rafael Nadal [VIDEO] has made it through the opening match of what could be his most important week in years. A solid run in 2017 could turn into a bigger achievement as the 31-year-old is closing the gap on world No. 1 bid. Currently ranked second in the world, he must reach the semifinals in order to get past Andy Murray in the rankings. Playing his first official match since that stunning five-setter at Wimbledon which he lost to Gilles Muller, Nadal had no flaws at all as he got past Borna Coric, a young ATP rising star in straight sets. Up next, the three times former winner will face another young promising player as Dennis Shapovalov stunned Juan Martin del Potro in straight sets.
This time, Borna Coric had nothing to work with
Although it may sound surprising, entering the match, Borna Coric had a leverage on #Rafael Nadal leading in head to head stats by 2-1. All their previous meeting were held on a hard court, so the equation was a simple one. Last time, they met at Western&Southern Open in Cincinnati back in 2016, and Coric stunned Nadal by 6-1 6-3. This time, things went in the opposite direction with Nadal cruising past his opponent. Losing his service twice in each set, the 20-year-old Croatian was unable to pick up some rhythm of his own. On the other side, Nadal looked solid behind the baseline and had to deal with a single break point throughout the whole encounter. In the end, it was Nadal who won by a slide margin 6-1 6-2 thus putting both his feet into the tournament.
With del Potro and Milos Raonic as the high-profile victims from the round of 32, Nadal can see his path unfolding ahead.
Nadal has some obstacles ahead
In the round of 16, Nadal will taste another sample of the ATP's youngest blood as Denis Shapovalov(143 ATP) looms ahead. The 18-year-old Canadian is gathering momentum on home soil. If he gets past the young Canadian, Nadal will face the winner of Adrian Mannarino vs Hyeon Chung. As it happened Mannarino stunned Milos Raonic while Chung, another young ATP star battled past David Goffin who is yet to regain his lost pace. The semis could bring Alexander Zvere on the other side of the court but the German has some troubles of his own. He faces Nick Kyrgios next, while the quarterfinals may produce Kevin Anderson or Sam Querrey as a strong opposition. And eventually, if he reaches the final, Nadal could taste a bit from the revenge pot as Federer seems likely to emerge from the bottom half of the draw. One thing should be added; Nadal won all three Rogers Cup finals he made it through. #world no 1 #The Spaniard