Nate Orchard shows promise in Cleveland Browns preseason opener
The defensive lineman recorded one sack and looked freed up on the edge.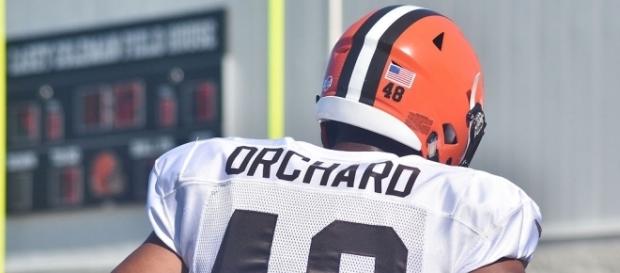 #Nate Orchard showed up on Thursday night - that was the first step. The defensive end is trying to prove that he belongs after a trying two seasons to start his career. The #Cleveland Browns' preseason opener was the perfect opportunity to do so. While fans were distracted by the quarterback battle raging on the depth chart, Orchard stepped up in the first half and showed how dynamic he can be as an edge rusher this season.
Orchard picks an apple
Orchard had been having a relatively unassuming training camp with the Browns, especially with top overall pick Myles Garrett playing a similar role and drawing all of the attention.
He made some noise against the New Orleans Saints, though. In the first quarter, he and Jamie Meder assisted on the first sack of the preseason. In the second quarter, he grabbed the second sack. He also put pressure on the opposing quarterback another time while making a potent stop on a run play.
Nate Orchard and Jamie Meder with the first sack of the preseason! #NOvsCLE pic.twitter.com/bahiV6kaMv

— Cleveland Browns (@Browns) August 11, 2017
The former second round draft pick spent most of 2016 on injured reserve. He entered Thursday night's action hanging on to the third defensive end spot on the depth chart. Still, it was a more natural position, considering Orchard played as a 4-3 defensive end in college, not the 3-4 linebacker role he had adopted by necessity with the Browns. Thursday night proved that he may have some value yet at his old position and could even challenge for a starting job down the line.
Browns takeaways from Thursday
On offense, it was all about the quarterback position. Neither Brock Osweiler nor Cody Kessler impressed much on the night. But Browns rookie DeShone Kizer did. He completed a 52-yard pass in the fourth quarter that eventually led to a touchdown. Then, he completed a 45-yard touchdown with under two minutes to go for the win. If Kizer continues to play as well as he did on Thursday, Cleveland may have a hard time keeping him off the field.
Orchard wasn't the only one who impressed on defense in the Browns victory either. Garrett recorded a tackle for a loss and applied some backfield pressure. Fellow rookie Jabrill Peppers showed off his versatility by playing both safety and serving as a return man. One of his kick returns went for 27 yards, while one of his punt returns went for 13 yards. Cleveland still has the potential to be very bad this season and Thursday was a meaningless game at the end of the day. They won't be embarrassed like they were in 2016, though - that's for sure. #NFL