Engaged Serena Williams shows wedding gown on Instagram? 'Romantic lace' posted
Did Serena Williams just post her wedding gown on Instagram? The tennis star teased a "romantic lace" photo on the social media site.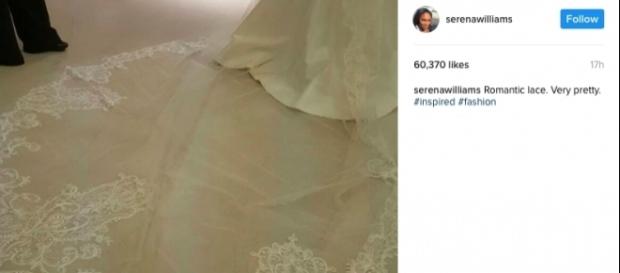 #Serena Williams has announced her engagement early this year and fans just can't get enough of her would-be wedding. The star's fans have since been searching the Internet far and wide for every detail available of the #Tennis star's big day. While Williams has been tight-lipped on her wedding deets, she may have let one out — posting a little look at what could be her wedding gown.
Serena Williams Instagram shows rest from tennis while singing Moana's theme song
The No. 1 ranked superstar has been taking time off from tennis. The star withdrew from the Miami Open 2017 and her social media posts show that she has been having some fun under the sun.
Serena William's Instagram posts from last week show her in different swimsuits singing her heart out while on the beach — an obvious indication that she is having a great time.
Serena 😂 pic.twitter.com/juZhKU8xz1

— Alysha Tsuji (@AlyshaTsuji) March 28, 2017
Showing some love to Disney, the Australian Open 2017 champ even belted "How Far I'll Go" from "Moana" while enjoying a perfect beach-slash-mountain view. All her escapades are posted on her Snapchat, to the delight of her fans. Needless to say, Serena isn't only winning tennis, she's also winning the Snapchat game too.
.@SerenaWilliams is having a Moana-filled vacation! pic.twitter.com/ddJ8kV6jht

— SB Nation (@SBNation) March 30, 2017
Serena Williams posts wedding gown photo on Instagram?
Serena Williams, engaged to Reddit co-founder #Alexis Ohanian, was quick to confirm talks about their engagement.
However, nothing about their future wedding has been revealed since her Reddit-inspired engagement post. Until now, it seems.
The Michigan-born athlete posted a photo of what seems to be a train of a wedding gown. She captioned it "Romantic lace. Very pretty. #inspired #fashion." The snap shows an embroidered lace sweeping the floor from an off-white gown — possibly a wedding gown. Fans took the post as a swipe at her wedding and sent well wishes to Williams and Ohanian.
Just posted a photo https://t.co/W8vZxjmwOX

— Serena Williams (@serenawilliams) April 2, 2017
Serena Williams, Alexis Ohanian announced their engagement via Reddit in January. The 33-year-old tech entrepreneur has been a constant supporter of the tennis living legend, watching her matches from the stands. Aside from being a tech giant, he is also a bestselling author and a political activist.