Kawhi Leonard continues to show his greatness
Leonard's game against the Pacers the other night was just more evidence of his greatness.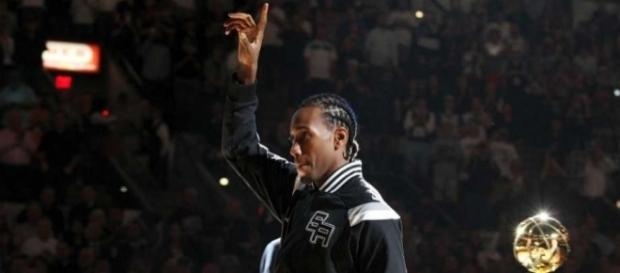 On March 1st, the #NBA's second best team in the league, the San Antonio Spur, were losing by one point to the Indiana Pacers with only 8.5 seconds left to play. Following a time out, #Kawhi Leonard was able to get free after a screen that was set by teammate LaMarcus Aldridge. Leonard then backed down Pacers star Paul George and made the 16 foot turnaround fade away jumper with 2.4 seconds left on what would be the game winning shot.
Leonard enters Spurs history books
Kawhi Leonard's game winning shot gave him a game high 31 points for the night, but more importantly it put him in the record book alongside other Spurs legends.
Leonard became only the fourth player in Spurs history to have twenty games with at least 30 points in one season. The other Spurs who have achieved that feat are George Gervin (7 times), David Robinson (4 times) and Tim Duncan (1 time). Gervin and Robinson are both enshrined in the Naismith Memorial Basketball Hall of Fame, with Duncan following when he is eligible.
Leonard's past and bright future
The impact that Kawhi Leonard has already had for the Spurs and in the NBA has been huge. Leonard has already made his impact felt on defense, having made the NBA All-Defensive First Team and also becoming the NBA Defensive Player of the Year in the previous two seasons. He has also named to the NBA All-Star Team in consecutive seasons and last year made All-NBA First Team. Leonard's most famous work was in the 2014 NBA Finals, helping the Spurs defeat the Miami Heat while going on to win Finals MVP.
This season Leonard is averaging a career best 25.8 points a game, making him one of only three players to have increased their average points per game in each of the last five seasons (Gordon Hayward and Jimmy Butler). He is currently on pace to have the most points per game in a season by a Spurs player since David Robinson had 27.6 in the 1994-95 season. Leonard is also a dark horse candidate for MVP, with a future that is definitely bright because he is only 25 years old. #SanAntonioSpurs