'Hawaii Five-O' posts animated start to Season 8 that gets fans animated
New season may be an uphill climb, but beloved 'bromance' police drama can still keep hard-core fans.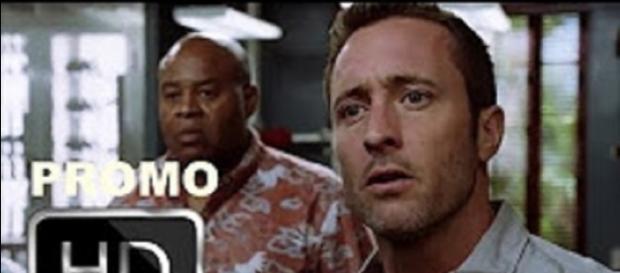 This Friday, September 29th, "Hawaii Five-O" returns to premiere Season 8, and reclaim the middle slot that the police drama has held throughout its long run. To whet the appetites of fans who have faithfully held on in loyalty through the unexpected tsunami of trials that besieged "Hawaii Five-O" through the summer, an animated Facebook post of Steve and Danny (portrayed on screen by Alex O'Loughlin and Scott Caan) having one of their infamous "carguments" is sparking cherished memories, but it is also rekindling debate.
The best at verbal ballistics
Danny is the man who loves the cars, but Steve always takes over the driving and attempts the death-defying feats. The two partners share their deepest secrets and fears en route to a crime scene or in pursuit of a perpetrator, and Danny is describing the toll that association with the fearless Lt.
Commander McGarrett is taking, saying that he feels lucky to "not have to reload my gun before my morning coffee." He also reflects on the fact that after meeting Steve, the lifeline of his palm literally vanished.
The official preview of the premiere proves that Steve McGarrett has survived his radiation poisoning, and still has his penchant for heading straight into danger, as he heads literally into blazes set by an arsonist that a computer hacker out to "release hell" has sprung from prison. Scott Caan isn't featured too prominently in the clip, as the ever-fretful, but abundantly faithful, Danny Williams. His only words to his partner are "stay alive."
The team will also recruit Tani Ray in the first episode, portrayed by the newcomer to the cast, Meaghan Rath.
Regardless of the measures that the team has to take, fans can be sure that they will come through to spare McGarrett and "Danno." Will the fans and the ratings spare the prime time favorite for a future beyond Season 8?
Some hearts are not in it
The posting of the animated clip already has hundreds of comments, and clearly some "Hawaii Five-O" fans are still asking "Where is the love?" following the departures of Daniel Dae Kim and Grace Park over salary parity issues. "Hawaii Five-O" seemed to be the last long-running series that any viewer might pick as struggling with diversity or fairness, and instead, the cast decisions to walk away from negotiations opened up a whole new diversity dialogue, and there are no easy answers.
All the while, the show-runners looked to be trying too hard to show how deeply they respected the presence and value of their local and ethnically representative actors.
The drama will be dealing with some of its favorite villains and valiant assistants through the season. Randy Couture stars in the premiere as Jason DuClair and Joey Lawrence joins his brother, Andrew, portraying the hacker on the opposite side of the law in the "A ole e 'olelo mai ana ke ahi ua ana la," which translates as "Fire Will Never Say that It Has Had Enough."
A recurrent theme will be both Steve McGarrett and Danny Williams pondering that life is short, and what kind of life they want after their law enforcement careers are completed. Steve's Restaurant may be a real possibility, and it has already been revealed that Steve will find canine companionship this season, too.
As long as the "Hawaii Five-O" foundation of "ohana" remains among the founders left of the elite force, and new relationships are allowed to ease themselves into viewers' consciousness, the prospects for Season 8 still look strong, and yes, there will be more "carguments."
Click to read more
and watch the video
or