Ian Somerhalder, Nikki Reed welcome a baby girl
After keeping the pregnancy secret for months, they announced they were expecting May this year.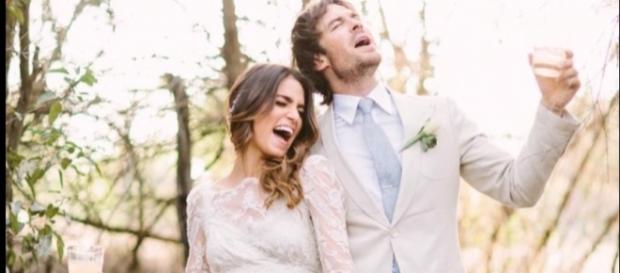 Somerhalder, 38, and Reed, 29, got married in 2015, following his break-up with co-star Nina Dobrev and Reed's divorce from singer Paul McDonald. Somerhalder is best known for portraying the hot, handsome vampire Damon Salvatore in 'The Vampire Diaries'. Reed portrayed Rosalie Hale in 'The Twilight Saga' and is also a screenwriter, singer-songwriter, and model. The two got married after dating for less than a year and took to Instagram May this year to announce they were expecting a baby.
To our friends, family, and rest of the world. In my 38 years on this earth I've never… https://t.co/gN7BCtleIr

— Ian Somerhalder (@iansomerhalder) May 4, 2017
Hi Little One
I know you, but only because I feel you. How is it possible to love someone so… https://t.co/X639KTlEBJ

— Nikki Reed (@NikkiReed_I_Am) May 4, 2017
It's a girl!
'People' confirmed via a birth certificate that Reed gave birth to a #Baby Girl July 25.
The girl was named Bodhi Soleil Reed Somerhalder. They didn't want to know the sex of the baby until the delivery. According to 'People', the couple said they wanted it to be a surprise and that it would be a surprise either way.
They didn't officially announce welcoming their baby into the world but Nikki explained that decision earlier in an interview for 'Fit Pregnancy.' She said that ''After the baby arrives, we're doing one month of silence. Just the three of us, no visitors, and we're turning off our phones too, so there's no expectation for us to communicate.'' They want to avoid the crowd as much as possible for the first month of their baby's life, as Nikki says, ''You don't get those first 30 days back, and we want to be fully present." Nikki had a shooting for September cover of 'Fit Pregnancy and Baby' and shared with the magazine that she felt pregnancy was wild as you have no control over some of your body's reactions.
Reed shared that she enjoyed exercising and limited outdoor activities while being pregnant.
Nikki Reed on Pregnancy: "It's a Crazy Miracle to Feel This Kid Moving" https://t.co/tfE7na27fs pic.twitter.com/Fp8JmQe3y4

— Fit Pregnancy (@fitpregnancy) August 12, 2017
Animal lovers
Somerhalder and Reed are passionate about animals and they often share the love for their several pets on their public profiles. They also actively work for The #Ian Somerhalder Foundation that, according to its official website, ''works to empower, educate and collaborate with people and projects to positively impact the planet and its creatures.''
Reed recently launched Bayou With Love, a new brand that focuses on sustainable fashion and clean beauty. Nikki seems to focus more on singing than acting these days, as can be noticed on her Instagram profile. After 'The Vampire Diaries' wrapped up earlier this year, Ian Somerhalder didn't publicly announce any new plans related to his acting career. He seems to focus on his marriage and family right now but the fans would like to see those blue eyes on screen again. #Nikki Reed