Bollywood: Salman Khan v Shahrukh Khan
Why Bollywood superstars like to release their movies on Eid (or Diwali) celebrations?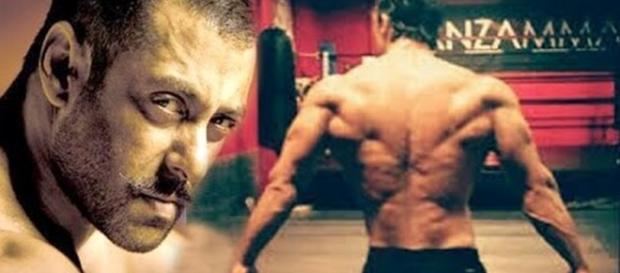 In Hollywood:Batman v Superman: Dawn of Justice.
Batman v Superman: Dawn of Justice (or Henry Cavill v Ben Affleck) was all about the two superhero titans clashing and  beating the hell out of each other. We saw the unfortunate demise of Ben Affleck's  superhero career as the cape crusader. Even though Affleck won the Best Director Award for Argo (2012) he started trending with the release of the new 2016 superhero franchise. Batman v Superman: Dawn of Justice flopped badly and did poorly in the box office.
The hashtag #sadAffleck (based on the Ben Affleck wearing a 'sad face' after finding out about his  extremely poor performance-as-the-new-Batman review) starting trending on social media everywhere (Check out @sadaffleck on Twitter as the hashtag seems no longer to exist). 
Salman Khan: the Big Brother of Bollywood.
Sultan v Raees (or Salman Khan v Shahrukh Khan) Movies were due to be released simultaneously (with Aamir Khan's Dangal) on EID celebrations, a day representing an end to the Muslim tradition of fasting in the holy month of Ramadan, in order to attract as many viewers as possible.
 Salman Khan is famous for releasing his movies on Eid whereas Shahrukh Khan on Diwali celebrations. Salman has managed to release Sultan on time. The box-office takings for Sultan around the world are showing good profitable signs for the actor who is also famously known as Bhaijaan (or Big Brother) by many around the world. Salman Khan has earned his superstar status by making back-to-back box-office hit movies like the blockbuster hit Dabangg which sent Mr.Khan into the realms of super-stardom, Bodyguard, Prem Ratan Dhan Payo and the Oscar-worthy blockbuster Bajrangi Bhaijaan (2015).  
Shahrukh Khan: The man who changed the Indian cinema altogether.
Shahrukh Khan has been dubbed as the Marlon Brando of his times in the context of bringing a new form of acting to the Indian cinema in general.
In Hollywood Marlon Brando changed acting in movies with films like A Streetcar Named Desire (1951) and On the Waterfront (1954). In Bollywood Shahrukh Khan ( 'Shah Rukh Khan - The Biggest Movie Star In The World' - Forbes ) changed the Indian acting game by choosing to play anti-hero roles rather than the hero protagonist leads that have been played by many other established actors prior to Shahrukh Khan's explosion into the Indian cinema scene.
Career highlights.
Shahrukh Khan's box-office hits Baazigar (1993) and Darr (1993) turned the actor into an overnight sensation across the world. His later Oscar-worthy works in films like Dil Se (1998) and the Devdas (2006) proved his superior acting and turned him into an international superstar. It can be argued that Shahrukh Khan with his unique style of acting is arguably the best actor in Bollywood. Unlike Salman Khan, the actor does not provide you with a stream of back-to-back hits and, however, he does have the power of attracting as many fans as Salman Khan.
Shahrukh's other latest releases Fan (2016) and Dilwale (2016) haven't done well enough at the box-office and failed to bring the kind of revenue that Bhaijaan's not-even-so-good movies bring. His latest film Raees, which is now scheduled for a 2017 release, will have a better chance at the Indian as well as international box-office collections. A marketing coup or not Raess will have no competition from a big release like Sultan in 2017. 
The Oscar-worthy Indian movies of recent times
 Dil Se (1998 ),  Eklavya (2007 ),  Lagaan (2001),  Devdas (2006) and Bajrangi Bhaijaan (2015)
Click to read more
and watch the video
or