If Cavaliers make trade for Jimmy Butler, it would be a mistake
There would be no chemistry with Irving and James if Butler joins Cavs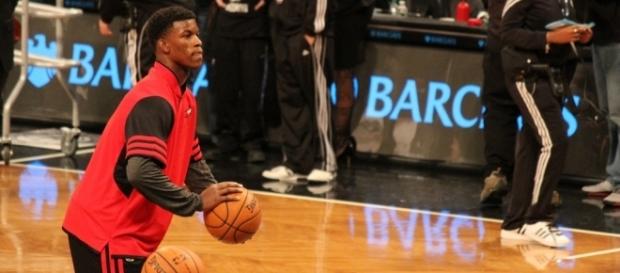 Reports from ESPN have surfaced that the Cavaliers are making a push to acquire Chicago Bulls guard, #Jimmy Butler. Butler is one of the best two way players in the NBA, and could help the Cavaliers get closer to the Golden State Warriors. However, a trade for Butler would be a huge mistake.
Butler can't take a backseat to two players
Two years ago when the Chicago Bulls had Derrick Rose and Jimmy Butler, there was tension on who the face of the franchise was. All throughout the 2015-2016 season, there were rumors of how Butler and Rose could not coexist. Both Butler and Rose downplayed the rumors, but the rumors were confirmed when the Bulls traded Rose to the New York Knicks that offseason.
The Cavaliers have LeBron James and Kyrie Irving. Some could say they are both the faces of the franchise. How could Butler be okay with being third fiddle in Cleveland when he had trouble taking a backseat to Rose in Chicago? The answer is that he would have some serious issues. Plus, there is no guarantee that he would even stay. Butler can be a free agent in the summer of 2018.
The Cavaliers would have to give up future assets in order to obtain Butler. Making a trade for a player that would bring serious chemistry issues, and then possibly bolt after the season would be a serious mistake by Cleveland.
Butler would be better off in Boston
In Boston, Butler would have to take a backseat to one player in Isaiah Thomas. Avery Bradley, and Al Horford aren't really faces of the franchise, so Butler could be "the man" in Boston along with Thomas.
Butler is a team player, and that can be confirmed when he played on the Olympic team. Boston has more to offer and would not need to involve a third party if necessary.
The trade is possible, but doesn't make sense
According to Marc Stein of ESPN, the third party could be the Phoenix Suns. The Suns have Eric Bledsoe and the No. 4 overall pick in the draft. A possible scenario is that the Suns receive Love, the Bulls receive Eric Bledsoe, and the Cavaliers receive Butler with draft picks.
This trade doesn't make sense. Kevin Love doesn't make the Suns that much better. The Suns still have years before they are on the cusp of competing. The Suns have a young core of Devin Booker, Alex Len, and Bledsoe. Bledsoe isn't a free agent until 2019, so why would they give up two years of his service for a big man in Love?
The only way this trade makes sense is that the Suns believe Bledsoe won't be a part of the winning regime, so they should trade him while his value is high. If the Suns deal their No. 4 overall pick, it would be a mistake because a starting rotation that consists DeAaron Fox (maybe), Booker, Love, and Len in it is not a playoff contender. However, this is what losing franchises do, and that is make terrible trades. #No 4 #Cleveland Cavaliers