Gunman named as Mandalay Bay death toll rises to at least 50 with 200 wounded
Rate this title
Police have now released the name of the 64-year-old man responsible for the massacre at the Route 91 Harvest Music Festival in Las Vegas.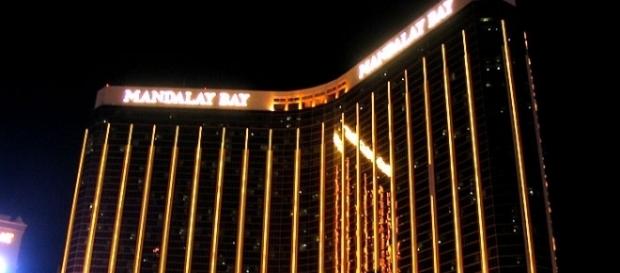 It was reported early Monday that at least 20 people had been killed by a gunman at the Route 91 Harvest Music Festival in Las Vegas on Sunday night, with 100 wounded. That number has now been raised to at least 50 dead and around 200 people wounded by the gunfire from a room at the Mandalay Bay Resort and Casino.
Some 30,000 people had been enjoying the concert, where Jason Aldean, a country musician, was performing when the shooting started. The incident is said to be the worst of its kind in modern U.S. history.
Mandalay Bay gunman identified, motive unknown
The gunman has been identified as Stephen Paddock. ABC News reports that 64-year-old Paddock killed himself shortly before the SWAT team reached his room on the 32nd floor of the hotel, from where he had opened fire on the concertgoers below.
However, CNN is reporting that police had broken down the hotel room door and shot the gunman.
Nat'l disgrace ppl can legally buy weapons designed specifically to kill with brutal speed & efficiency#GunControl https://t.co/RwSiTavCE1

— unR̶A̶D̶A̶C̶K̶ted (@JesselynRadack) October 2, 2017
Clark County Sheriff Joe Lombardo said they are not aware, as of yet, the motive for the shooting, adding that he didn't know Paddock's "belief system." What he could say was that Paddock hails from Mesquite, Nevada, a town around 80 miles from Las Vegas, where he worked as an accountant. Calling the gunman a "lone wolf," Lombardo went on to say they believe Paddock used multiple weapons to shoot the victims as at least eight rifles were discovered in the 32nd floor room. According to a report by ABC News, public records reveal that Paddock had a pilot's license and hunting license.
The moment the sound of heavy gunfire abruptly stops a #LasVegas concert https://t.co/bztcagkOcX pic.twitter.com/HZBFyxnFMo

— David Moore (@mooredavid1970) October 2, 2017
CNN reports that Quinn Averett, a spokesman for the Mesquite Police Department, told them there had been no prior contact with Paddock. Initially police were seeking Paddock's "roommate," named Marilou Danley, 62, as a person of interest in the shooting. However on discovering Danley was out of the country at the time, the search was called off as officers realized she could not have been involved in the attack.
More witnesses speak out about their experiences
More witness reports continue to come in, with Michelle Leonard, who was working in a booth by the main entrance to the concert, saying it sounded like there were a thousand shots fired. She told ABC the sound of shooting went on non-stop. Leonard then described the "mass confusion" as everyone tried to flee from the scene, saying a friend told her they had stepped over dead people on the way out.
Witness in Las #Vegas:"We watched these people getting gunned down, the air just reeked of gunpowder."https://t.co/qmWIni4XOE Mandalay Bay pic.twitter.com/LcLZmIPRwA

— Aziz Mehmed Effendi (@8nja) October 2, 2017
Vincent Sager, another witness, posted a video to Instagram to say he initially thought the gunshots were fireworks, but quickly realized what was going on when he saw someone run past him covered in blood.
Click to read more
and watch the video
or