Watch sign language interpreter become star of Gov. Rick Scott's Irma presser
Rate this title
As Florida Gov. Rick Scott warned Floridians of the importance of keeping safe during Hurricane Irma, the sign language interpreter took front stage.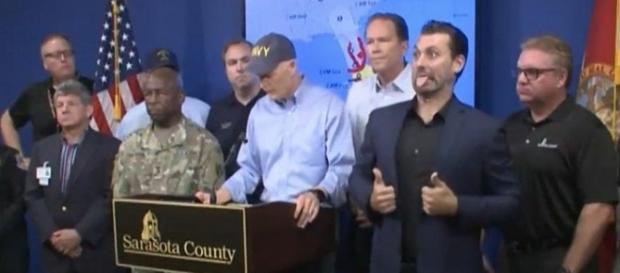 Florida Governor Rick Scott took to the stage Saturday morning to give Floridians a briefing about the incoming Category 4 Hurricane Irma. As people prepare for what is one of the worst storms in Florida's history, Scott urged residents to evacuate and keep their families safe.
However, it was the Sign Language Interpreter who captured attention as he made the appropriate signs relating to Scott's speech on the Hurricane Irma preparations. The emotive and expressive man, wearing a blue suit and dark shirt, was so expressive he caused a certain guilty humor among those watching.
Interpreter gets the message across with humor
With his expressive face, the sign language interpreter pulled terrified faces as the governor warned of deadly surges, powerful winds and deep waters coming from Hurricane Irma that would be higher than Floridians' homes.
At some stages during the speech the interpreter stuck out his tongue and gave double thumbs up (pictured above) to make his point. While Scott was stressing to people that if they have been ordered to evacuate, they have to leave right now, the interpreter gave his words even more impact.
Twitter comes alive over sign language interpreter
As reported by the Sun Sentinel, Twitter was alive, both during the press conference and afterwards, with many users showing their appreciation for the interpreter's vivid and expressive hand (and face) signals, saying he really got the point across. Many said they stopped watching Scott and couldn't resist but concentrate on the interpreter instead.
User @iHumble asked other Twitter users if they were watching the interpreter, saying he couldn't help but pay attention to him.
Payin way to much attn to the sign language person when the Gov speaks now. This lady was much calmer than ol boy earlier. lol

— Humble (@iHumble) September 9, 2017
Another Twitter user, @CMart0979 said the interpreter is Hurricane Irma's hero, adding they didn't think it was even possible to "over-pronunciate" [sic] in sign language.
Rick Scott's sign language interpreter is the hero of Hurricane Irma. Didn't think it was possible to over-pronunciate in sign language. pic.twitter.com/hF9SpwTrcw

— Chris Martinez (@CMart0979) September 9, 2017
@ELRLive couldn't help but tweet to say they didn't want to make light of the hurricane, but the sign language guy was really getting the facial expressions down, adding to Floridians to get out and away.
I don't mean to make light of #Irma but this sign language guy is getting the #Facials thing down! So get out and get away. pic.twitter.com/QdnhdDlWvq

— Eric Rietschel (@ELRLive) September 9, 2017
While his performance was humorous, many believed the interpreter was really getting Scott's important point across.
I feel like this sign language interpreter on @MSNBC is getting his point across. #Irma #hurricaneirma2017 #FloridaEvacuation #HurricanIrma pic.twitter.com/1ab0AwvGfp

— Caroline (@CESInTheCity) September 9, 2017
@Leslie_Goodreid said they need the sign language interpreter to deliver all the news, not just evacuation warnings.
We need this dude to deliver all the news. hahaha #Irma https://t.co/dl4H6vFaFp

— Leslie Goodreid (@Leslie_Goodreid) September 9, 2017
While the interpreter's name has not immediately been released by Gov. Scott's press office, he certainly made the day for a lot of worried Floridians.
Click to read more
and watch the video
or