The third generation of the Porsche Cayenne is here
The 550 hp turbo engine is completely new. But it looks like its predecessor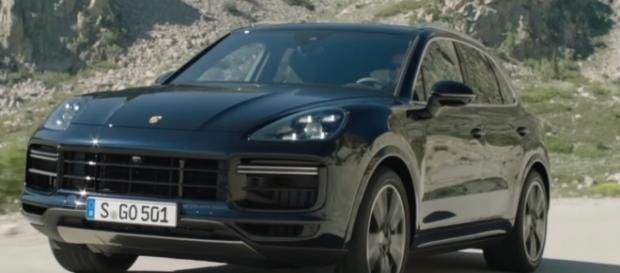 Old optics, new technology: that's what you might think. However, Porsche promises that everything is new on the Cayenne. The third generation of the Porsche SUV has been completely redesigned. Like the Audi Q7 and Bentley Bentayga, the new Cayenne is also on the MLB platform. Porsche deliberately wants to have its design orientated on the 911. The fact is, on the front line, the new Cayenne is almost indistinguishable from the old one. The air intakes are a little bigger - that's it.
Sizes
The Cayenne is 2.3 inches longer and slightly flatter than before. The wheelbase remains unchanged at 9.5 feet. There's a little surprise at the rear: The off-roader wears the well-known continuous light band from the Panamera.
It was to be expected, but it is nevertheless new. All in all, the SUV is carefully adapted to Porsche's current design language. To be honest, the new Cayenne could also be a facelift of appearance. Thanks to the aluminum body and other aluminum parts, Porsche was able to cut the weight by 121 pounds to 4376 pounds despite the extra equipment. The off-road capabilities not used by most customers are to be retained in the Cayenne. The third generation of the Porsche Cayenne will have its trade fair première at the IAA 2017. The competitor for the BMW X5 and Mercedes GLE is now available with three different engines. The first units will be delivered in 2017. At least $89,590 is due for the new 340 hp Cayenne. The stronger Cayenne S starts at 110,110 dollars. The 550 hp top model Cayenne Turbo costs at least $166,250.
The heart
The cockpit is entirely new. The instruments are dominated by the analog rev counter, of course, arranged in the middle of the car, as it is desirable for a Porsche. To the right and left of it, two sharp, seven-inch displays shine, which can be individually configured: navigation, speed, music - all at the touch of a button. It happens almost intuitively via the #Steering Wheel buttons and is no problem for Porsche newcomers. The heart of the new Porsche Advanced Cockpit with a 12.3-inch touchscreen is the new Porsche Advanced Cockpit in the Cayenne. The system is up to date and does not need to hide from the competition: voice input, proximity sensor, and stick-sharp display included. The outer air vents are designed elongated like the predecessor; the central air outlets are now horizontally aligned due to the large screen. Typical Cayenne are the handles on the left and right side of the center console, which all Cayenne had before. The round mode switch on the steering wheel of the Cayenne is completely new and only available with the revised Sport Chrono package. The seats and craft leave nothing to be desired and are of the highest standard. #Turbo Engine