Police release final photo texted by Texas teen before she was electrocuted
Madison Coe, 14, died while texting in the bath with her cellphone plugged in to charge and her final message has been released by police.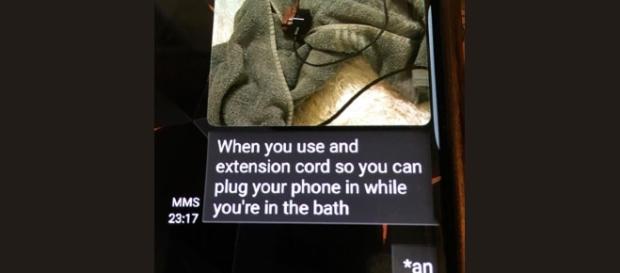 Madison Coe, 14, died on July 4 while using her cellphone to send text messages in the bathtub. The phone had been plugged in to charge when she sent a final image to a friend of the extension cord she was using. Lovington police have released the photo as a warning to others of the dangers of using technology while bathing.
Teenager plugged the phone in to charge so she could keep on texting
Coe had been spending the summer with her father prior to starting high school in Houston when it happened. She had plugged the cell phone in to charge and had continued to use it, sending the #text message included above.
NBC News reported that investigators with the Lovington Police believe Coe took the photo and then sent it to a friend shortly before she died.
The photo shows the phone charger, which she had plugged into an extension cord so that she could still use the phone while in the #bathtub. The caption to the photo mentioned how she had used the extension cord to plug the phone in and still be able to use it to text. Police did say the phone had never been immersed in the water.
how very sad. Feds Reviewing Reported Electrocution by Cellphone in Tub https://t.co/EJqBbRdejS

— Gin (@2ysur2ysub) July 12, 2017
Frayed extension cord electrocutes the teen
According to a report by Lovington Police and the U.S. Consumer Product Safety Commission, the extension cord had been plugged into a non-grounded outlet which was without a circuit-breaking safety mechanism. Investigators found Coe had touched a frayed section of the extension cord that was wet while using the cellphone.
According to the report she may never have known it was frayed.
Coe's parents released the photo to the police in the hopes that by sharing her final text it might help to prevent other similar accident. They want people, and especially teenagers, to be aware of the dangers of texting in the bathtub.
Family speaks up about Texas teen
CBS affiliate KRQE quotes Felisha Owens, Coe's stepmother, as saying Madison enjoyed taking baths, adding that it was not unusual for her to spend up to two and a half hours in the tub.
Madison's father, Logan Coe, told KRQE that his daughter was everything to him. The family described her as a loving and smart girl who loved band and basketball. Owens went on to say she played the tuba and that she "nailed it."
Owens said the whole family had regularly used their phones while in the bathtub to send texts or play games, but no longer. She said the bathroom is for showers and personal time, but phones do not belong there, as electricity and water don't mix. She added that, as in Madison's case, all it takes is a drop. #electrocution