Donald Jr. misses family event at Trump National Golf Club at Bedminster
Female golfers stage protest to pressure USGA to dump Trump for being sexist.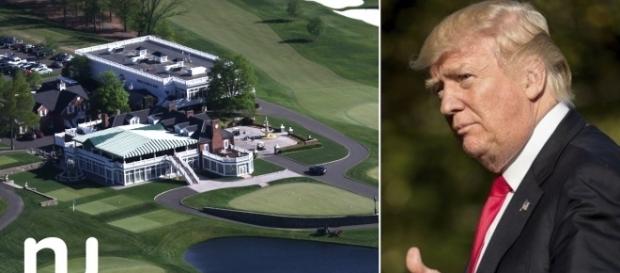 Donald Trump Jr., with all the heat on him, opted not to show up at a family event on Sunday at the Bedminster country club which the Trumps own. President Donald Trump watched the final round of the U.S. Women's Open golf tournament with son Eric and his wife Lara.
They were in a security tent – which provides views of the 15th green, 16th tee, and 18th green – where they were joined in the later afternoon by First Lady Melania, daughter Ivanka, son-in-law Jared Kushner, and the couple's children. The controversial son, Donald Jr., however, was nowhere to be seen, The New York Post reported.
Women golfers protest Trump
A club member commented that it was a right decision on Donald Jr.'s part not to show up at the public event, disrupted by a protest among some female members, with the public attention on him following the email scandal caused by Donald Jr., Kushner, and Paul Manafort meeting Russians.
The presidential son admitted they met lawyer Natalia Veselnitskaya to supposedly get a political dossier they could use against Democratic candidate Hillary Clinton.
When the #women golfers saw Trump enter his secure private viewing box, seven women in white t-shirts and pink umbrellas posed in front of the Trump National clubhouse. Their t-shirts contained one letter each plus a punctuation mark that read RESIST! The women then turned around and the message on the other side of their shirts read: "This is not NORMAL," Reuters reported.
@UltraViolet did you catch this yet? https://t.co/L9ltWP86C0

— Hope Singsen (@hopesingsen) July 17, 2017
Another group of women golfers in purple t-shirts sent the message: "USGA: DUMP SEXIST TRUMP." Melissa Byrne, a spokesperson for the UltraViolet Group, a national group, said the female golfers deliberately waited for the real estate billionaire, who owns the #Golf Club, to enter his security booth before they revealed the message on their t-shirts.
Reaction to president's misogyny
The Trump National Golf Club in Bedminster, New Jersey, won the bid to host the final round of the U.S. Women's Open on Sunday in 2012 before Trump forayed into politics. Women's groups, however, are angry at the president's campaign rhetoric and behavior which they described as misogyny. "We want the USGA to dump sexist Trump because women and men deserve to make sure that they are safe and that sexual predators are not considered ambassadors of sports," Byrne said.
Thank you to all of the supporters, who far out-numbered the protesters, yesterday at the Women's U.S. Open. Very cool!

— Donald J. Trump (@realDonaldTrump) July 16, 2017
Byrne said she was sure that the president saw them based on how they were talking and looking at the protesting female golfers. Trump, in a tweet, confirmed he saw the protesters but dismissed them as a small group. While Donald Jr. was conspicuously absent at the event, he promoted it through a tweet, followed by a second tweet blaming the Obama administration for granting Veselnitskaya an immigration parole to extend her stay in the U.S.
after defending a Russian client. The Russian lawyer's meeting with Donald Jr. is the reason why his father's approval rating is down to a record low.
Why Did Loretta Lynch Grant Trump Jr's Russian Lawyer A Special Visa To Enter America? https://t.co/BVBGkXKNZl

— zerohedge (@zerohedge) July 13, 2017
#Russia investigation