Texas police use Twitter to ask news chopper to back off in high-speed chase
While Fort Worth police were in a standoff with the driver of a stolen 18-wheeler truck, the noise of a news helicopter interfered. Cops sent a tweet.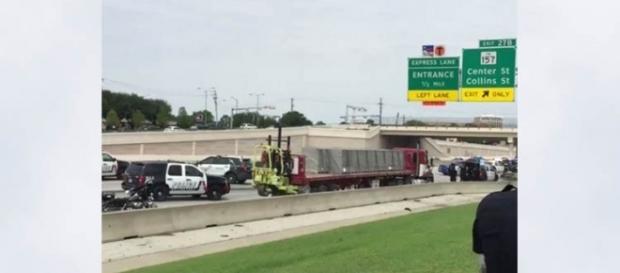 It all started with a high-speed chase on Interstate 30 in #Fort Worth, Texas at around 1 p.m. Friday afternoon. Police were attempting to stop what was believed to be a stolen 18-wheeler truck when a news helicopter hovered overhead, catching the action. As the noise of the helicopter interfered in the standoff between police and the truck, a tweet was sent, telling them to back off. It worked.
High-speed chase on I-30 in Fort Worth, Texas
As reported by Fox 4, police were attempting to pull over the 18-wheeler, which was driving at high-speed near Beach Street at around 1 p.m. Friday. They were unsuccessful in their attempts to get the driver to pull over and stop.
Fort Worth police then chased the vehicle – traveling at speeds of up to 100 mph – along Interstate 30. Along its erratic high-speed journey, the truck hit or sideswiped several vehicles.
A pursuit of a semi truck that was striking vehicles and speeding along the freeway.
Trying to make contact with driver who is still inside. pic.twitter.com/r4KfWw5rix

— Fort Worth Police (@fortworthpd) June 9, 2017
The truck's wild journey ended in a fiery crash with a car, close to Cooper Street, with part of the truck's load on fire. The vehicle hit by the truck was also ablaze, but the driver managed to escape with non-life-threatening injuries. At that stage, police officers approached the truck with guns drawn and SWAT vehicles arrived on the scene, while the driver of the stolen truck barricaded himself in the cab.
Arlington SWAT is working with Fort Worth SWAT in an attempt to get driver of the semi to exit the vehicle. Still ongoing. Avoid the area. pic.twitter.com/ViqXbCMhDg

— Fort Worth Police (@fortworthpd) June 9, 2017
News helicopter arrives and hovers over the scene
As reported by the New York Post, it was at this moment that a news helicopter flew in and hovered directly overhead, catching the live action as it happened. According to Fort Worth police, the noise of the helicopter was interfering in their standoff situation, so they headed to Twitter to ask the news station's pilot to move away.
Whoever the helicopter is right above us can you please move back? The noise is interfering. pic.twitter.com/oNh6EykVJy

— Fort Worth Police (@fortworthpd) June 9, 2017
While other Twitter users speculated which news station was at fault, the message finally got through, with police sending the second tweet six minutes later to thank the "chopper" for moving.
Thank you for moving, chopper.

— Fort Worth Police (@fortworthpd) June 9, 2017
Judging by various tweeted images, it looks like Fox 4 was the culprit.
Chase with 18 wheeler in Fort Worth turns fiery crash/stand-off on I-30 in Arlington https://t.co/abVSfsnUxm pic.twitter.com/VcD6REaC9G

— FOX 4 NEWS (@FOX4) June 9, 2017
Driver of stolen truck taken into custody by SWAT team
According to police, the driver was "acting erratically," and they had to keep him under close observation via a remote-controlled camera. Having established the suspect had no weapon, the SWAT team then moved in, pulling the driver out of the truck. 35-year-old Jose Luis Cano Olivas was arrested at around 3:30 p.m., two-and-a-half hours after the chase began and was taken to a local hospital.
BREAKING: Police ID 18-wheeler chase suspect as 35-year-old Jose Luis Cano Olivas https://t.co/abVSfsnUxm pic.twitter.com/NusZgb5aB4

— FOX 4 NEWS (@FOX4) June 10, 2017
According to medical officials, eight to 12 people, who were in the vehicles struck by the truck during the high-speed chase, were treated, but none received serious injuries in the incident. #High Speed Chase #18 Wheeler