Texas police arrest suspects with $1 million worth of meth-laced lollipops
Rate this title
Responding to a burglary, Harris County sheriff's deputies arrested two suspects with 600 pounds of meth-laced lollipops seeming to target children.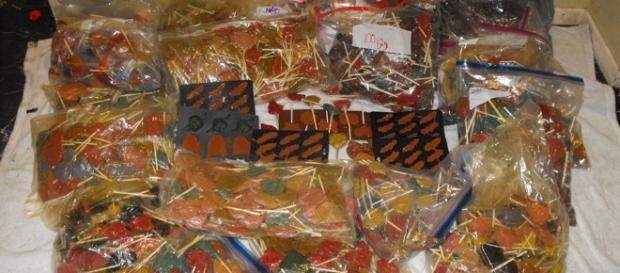 Harris County Sheriff's deputies on Thursday received a report of a possible burglary in progress at a home in Spring in the Houston area. On arrival at the residence, they found a man and woman with 600 pounds of colorful, meth-laced lollipops styled like butterflies, "Star Wars" characters, Batman, flowers and other popular shapes in their possession.
Bags of meth-laced lollipops found inside the residence
On entering the residence, officials uncovered many more bags of the meth-laced lollipops as well as molds used to make them. Police estimate the drug-laced candies to have a street value close to $1 million, with each lollipop estimated to be sold on the street for between $20 and $40.
"It's just bags and bags and bags of what at least appears to be candy lollipops but they all have meth inside." https://t.co/dRMISQKoKK

— Dallas Morning News (@dallasnews) June 14, 2017
Suspects were robbing the drug dealer's home
According to Lt. Ruben Diaz, the vehicle used by the suspects, David Andrew Salinas, 21 and Evonne Christine Mick, 36, was so tightly packed with the drugs they were unable to close the back hatch. They caught the two suspects as they were trying to flee the scene. Diaz said officials believe the man and woman had taken the drugs from the residence where the burglary was said to be taking place.
Nearly $1 million worth of meth-laced lollipops recovered during seizure in Spring https://t.co/OxoklnrAEV #KPRC2 pic.twitter.com/hhyMcA8Kag

— KPRC 2 Houston (@KPRC2) June 13, 2017
The two suspects in the incident, Salinas and Mick, were arrested and are now facing charges of possession with intent to deliver or manufacture a controlled substance.
CW39 reports that Mick was arrested on a bond of $100,000.
Drug-laced candy appears to target children
As reported by the New York Daily News, Diaz said the design of the lollipops appears to target children, adding that there is a school located near the residence. He went on to say that even if the suspects weren't directly selling to children, if someone should drop one of the candies in the street, a child might pick it up, thinking it was a normal lollipop.
Targeting Children.
$1 million worth of Meth Lollipops, including 'Star Wars' and 'Batman' "candy" police say https://t.co/1SYqqWhslP

— Aframerica (@Aframerica) June 14, 2017
Investigators now need to find out who manufactured the meth-laced lollipops
According to Diaz, Mick had stayed at the residence in the past and they believe she had returned to the house to rob and burglarize the drug dealer who lived there. Diaz went on to say authorities believe the meth was manufactured in the residence and they do not suspect Salinas and Mick of making the drugs.
However, he did add that none of their investigators had ever seen meth made into candy like this before. Diaz said the haul contained many bags of what looked exactly like candy lollipops, but they all contain meth. He added that the investigators next task is to try and establish who was actually manufacturing the lollipops.
Click to read more
and watch the video
or