Barack Obama steps back into the public arena
Former president makes first political appearance since leaving the Oval Office.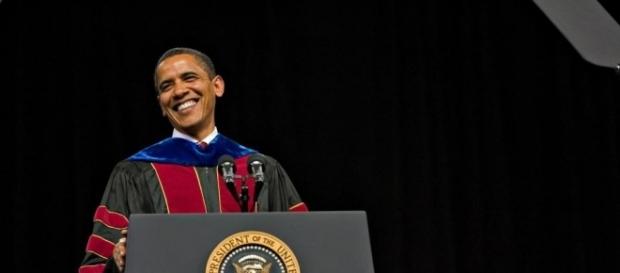 Former President Barack #Obama is making his first public appearance and getting involved in politics again in a scheduled event at the University of Chicago next Monday.
Barack Obama returns to his roots to inspire young Americans
Sources say that it's not specifically a political event, but it will give ex-president Obama a chance to reach out to potential voters and gather support for his post-presidency activities. The event will focus on gaining support and touching base with students and young leaders in order to enlist community engagement groups for getting involved in political activism. The event is open to the public, but tickets may be difficult to procure.
Barack Obama was a law professor at the university and served as a state senator in the district where the school is located. He also visited in university in 2016 in order to gain support for his Supreme Court nominee Merrick Garland, whom he nominated to replace Antonin Scalia after the justice's death.
It seems that the much-loved former president will be focusing on youth engagement, now that he's returned to public life, although his plans for political activism are still in the planning stages. Obama is planning to talk about his past as a community organizer in Chicago's South Side during the townhall style meeting at the school, and speak about how similar political events inspired his own historical path to the White House.
The ex-president is planning a series of speaking engagements that will occur over the next month.
Following his visit to the University of Chicago, Obama will be attending a Boston awards ceremony, a series of paid speeches in the U.S. and in Europe, and will appear with Germany's Chancellor Angela Merkel at the Brandenburg Gate.
Obama plans to take the high road after return to public life
Supporters of the former president, including activists and staffers during his term in the Oval Office are keen for him to speak out in the light of current President Trump's disassembly of many of the Democrats policies and legacies, including Obamacare. But Obama's current staffers say he does not have plans to attack the current president on policy, and has no intention of holding a public war with Donald Trump during his speaking engagements.
Staffers did not reveal how much the former president will be paid for his speeches, but they did state that Obama will be focusing on broad policy: political engagement, climate change, civil rights, and inspiring activism in American #Millennials.
Obama has been travelling and taking some much-deserved vacation time since leaving office, visiting the Caribbean and South Pacific in French Polynesia, yachting and surfing. He and his wife, Michelle Obama, have also been working on their memoirs, which have already found a publishing house with Penguin Random House. #Democrats vs Republicans