World A.S. Day raises global awareness for Ankylosing Spondylitis
On May 6th, also known as World A.S. Day, advocates joined forces world-wide to raise awareness for Ankylosing Spondylitis.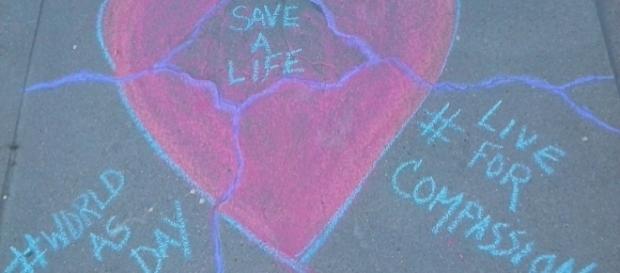 May 6th marked the annual World A.S. Day. Worldwide people gathered together to #Raise Awareness for the disease Ankylosing Spondylitis. Events were held around the globe to help educate the public about the autoimmune disease that many do not know much about.
What is Ankylosing Spondylitis?
Ankylosing Spondylitis is a hereditary disease that affects the entire body. Primarily, the focus of the disease is the spine, hips, and chest. The disease is autoimmune, meaning that the disease tricks the brain into thinking that the affected areas, including the spinal area, are "sick". The body then sends white cells to repair the damage of the "sick" area.
In fact, the area is actually healthy but the autoimmune disease will mistakenly damage those areas of the body instead of repairing them. It is an ongoing, never-ending cycle. The disease will not only attack the spinal areas. It has been medically documented that the disease will "attack" all areas of the body. Including the heart, brain, and other vital organs like the liver.
There is no cure, and the treatments options are few. Some treatments like biologics are the center of many discussions because while some using the drug actually enter remission, others endure life-threatening side effects.
World A.S. Day is about raising awareness.
Advocates from Austrailia, the U.S.A, and Thailand (just to name a few) took to the streets and to social media for a campaign of awareness that reached all corners of the globe.
#spondylitis STEWART and anna raising AS AWARENESS TIMES SQ NYC http://t.co/8OOGwIA

— TOM CONTRINO (@contrinophoto) May 7, 2011
In 2011, there were an estimated 33 million people in the world that live with Ankylosing Spondylitis. But in truth, many live their entire lives battling a disease that could be crippling them. Some have lost their lives not knowing about Ankylosing Spondylitis. This is why people worldwide gathered together to raise awareness.
Thank you to Jennifer for turning Blue to Orange @WalkYourASoff @NASSexercise @NASSchiefexec @MrRajM @RozEmerson #WorldASDay #NASS pic.twitter.com/r8hdDCSzbG

— jean morton (@1jeanmorton) May 6, 2017
From doctors and advocates to patients, many turned out to support the cause. May 6th was a day that a message was sent out worldwide. Ankylosing Spondylitis is a disease that needs more awareness. There needs to be more research, and more people must get tested.
OK. Officially it's #WorldSpondylitisDay but I'll join the trend and call it #WorldASDay. Don't forget about all #Spondyloarthritis diseases

— Cdn Spondylitis (@SPONDYLITISCA) May 6, 2017
Many who have Ankylosing Spondylitis live very private lives.
Two celebrities who have gone public with their battle with Ankylosing Spondylitis are #Mick Mars from Motley Crue and Dan Reynolds from Imagine Dragons.
The band, Motley Crue, retired shortly after Mick Mars revealed his battle with this Ankylosing Spondylitis. He has been considered one of America's greatest guitarists. He once auctioned off one of his own guitars and the proceeds were donated to the research of this disease.
Also, Dan Reynolds from Imagine Dragons has gone public with his fight with this fairly unknown disease. He has teamed up with the Spondylitis Association of America to help others who endure this disease.
In support of #WorldASDay I meet Dr. Hillary Norton, a doctor living with AS, on #ThisASLife Live! #spokesperson https://t.co/WqL6tJmpZx

— Dan Reynolds (@DanReynolds) May 6, 2017
It is important to raise awareness for this disease and all other diseases that go unnoticed. Online support groups can be found online or locally. Be sure to check out the Spondylitis Association of America. Many resources for AS can be found there.