The numeral art of Johnny Descamps comes to the USA
Engineer-turned-artist Johnny Descamps is inspired to create sculptural art based on numbers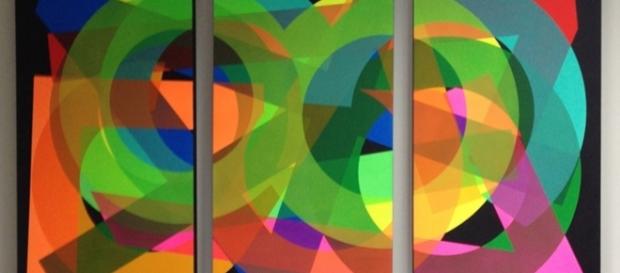 Johnny Descamps is both an Artist and a civil engineer who has been attracted to numbers since childhood. Prior to his present career, Johnny spent thirty-five years working at an advertising agency where he learned many important techniques involving colors and designs. The results of his experiences are colorful sculptures that feature numbers alongside--or entwined within--colorful silhouettes of people, horses, motorcycles, bulls, roosters, sailboats, cars, and much more.
Numbers
Johnny was born in Caracas, Venezuela, where he still lives and works. He started making Art in 2009. To date, he has created more than eighty pieces--most of which are sculptural wall hangings--that have a strong abstract influence.
Despite being relatively new to the art scene, Johnny has enjoyed many solo shows and his work has been featured internationally. To date, he has exhibited in Colombia, Panama, Venezuela, Chile, France, the Dominican Republic, and the United States, most notably in Miami and New York City.
"My art is the expression of what fuels my soul and I hope that my work touches the soul of the people who want or have my work," Johnny stated and noted that he is determined to keep growing his presence throughout the United States and Europe.
Artwork
His art first entered into the American scene in Art Basel 2014 in Miami, Florida, and quickly gained acclaim. Since then, his works have been shown throughout the United States and he has plans to continue his emergence in the American art industry.
One of Johnny's most exciting and encouraging events was his inclusion in the 2017 ArtExpo in Manhattan, New York.
This was his first time at the venue and Johnny was inspired by the other artists and artistic techniques he saw on display. "The Art Expo was very enriching because it invited me to keep working and creating," Johnny stated. "I also felt the worldwide perception of my work. As an artist, it is important to be present at and invest in these shows. My dream is to be present at the Pompidue of Paris or in Mona, New York!"
Johnny firmly regards being creative and believing in oneself to be the keys to success. Being humble and recognizing and honoring constructive criticism is also important for artistic growth. He is currently gearing up for the Florence Biennale in Italy
"I am proud of my team and my projects and my work because I have been selected from thousands of artists all over the world," he explained. "I will also be present in Art Basel and other Expos where my work is exhibited. I'm looking forward to all of these events."