SNES-inspired SF30 Pro and SN30 Pro controllers now available for pre-order
The retro controllers are compatible with the Nintendo Switch, Microsoft Windows, macOS, Android, Steam, Wii, Wii U, and Raspberry Pi.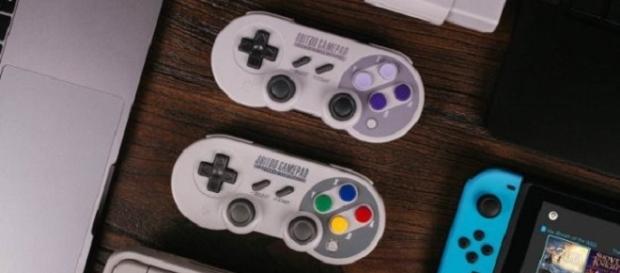 Playing challenging games on the #Nintendo Switch is rather cumbersome when using the console's included Joy-Con controllers. This is mainly the reason why players have opted to purchase Nintendo's Switch Pro Controller, which provides an overall greater degree of accuracy and is better when playing competitively. However, buying one may be too expensive for most. Fortunately, some third-party providers give players a cheaper alternative. One of the most popular ones to have come out is from the company 8bitdo, which had previously announced two products, the SF30 Pro and SN30 Pro.
Open for pre-order
Following the overwhelming hype for both controllers, since they were announced, the company has now made their products open for pre-order on Amazon.
Both controllers are made to look like the original controllers that were included with the extremely popular 1990's Super Nintendo console, or Super Famicom for those in Asia. However, the devices have been upgraded to include modern functionalities, such as motion controls, clickable joysticks, a rumble feature, dedicated screenshot and home buttons, and a full suite of connectivity options. Unfortunately, those who will opt to pre-order the controllers now will not be getting them until December.
Not just for the switch
To further increase the controller's usability, 8bitdo has made their devices fully compatible with a plethora of gaming systems, including Microsoft Windows, macOS, Android, and Steam. The controllers can also be used with the Nintendo Wii, Wii U, and #Raspberry Pi via a "Legacy" firmware install.
The devices can also be button mapped and feature full support for D-input and X-input. The input devices have all the necessary buttons to play any type of game that includes not just retro titles but also modern triple-A releases.
Specs and features
As previously mentioned, both controllers sport some modern features that weren't found in the original SNES. This includes Rumble vibration, motion control, and USB connectivity. The controllers also house a 480mAh rechargeable battery that has been revealed to last for up to 18 hours of playtime.
Charging the controller from empty to full reportedly takes between 1 to 2 hours. The controllers can be used either by plugging it via a USB cable, which also charges it at the same time, or wirelessly via Bluetooth 4.0. The SF30 Pro and SN30 Pro controllers are both priced at $49.99 as pre-orders on Amazon. The devices will be shipped to buyers in December. #Pre Order